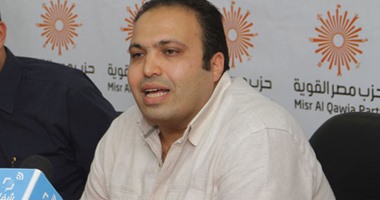 The Supreme State Security Prosecution on Saturday ordered deputy head of Misr al-Qawia Party (Egypt Strong) Mohamed al-Qasas be detained for 15 days pending investigation on accusations of belonging to the Media Axis of the Muslim Brotherhood.
Several figures face accusations in the case for publishing rumors and false statements against the Egyptian state through the entities and media platforms belonging to the Muslim Brotherhood terrorist group.
The prosecution charges the suspect with joining a group established contrary to the provisions of the law, whose purpose is to call for the disruption of the provisions of the constitution and laws and to prevent the institutions of the state and public authorities from carrying out their work.
The prosecution also charged the suspect with publishing false news about the political and economic situation of the country with the aim of disrupting public peace within the framework of the objectives of the terrorist group and promoting the group's aims of undermining confidence in the Egyptian state and its institutions.
Edited translation from Al-Masry Al-Youm