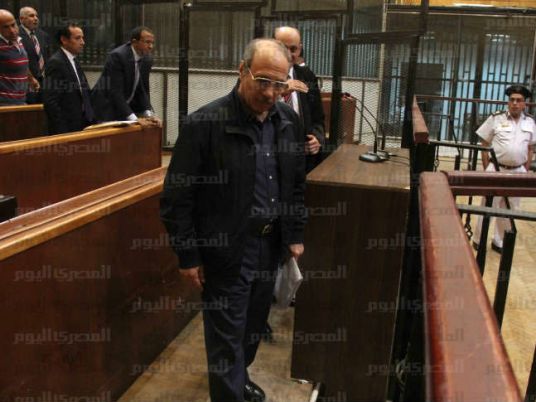 Egypt's Public Prosecutor on Thursday began extensive investigations into the escape of Habib al-Adly, the former interior minister, from the seven-year prison sentence in the case of the seizure of funds and exploitation of influence during his tenure as a minister.
Adly's family, his private security guards and those responsible for placing him under house arrest, have been questioned for 10 hours at a 6 of October city's prosecutor office.
Adly's wife, journalist Elham Sharshar, denied any knowledge of her husband's whereabouts, saying that her husband is not used to fleeing. She maintained also that she was out of Cairo when he received the prison sentence.
Judicial sources said that the investigations came after official correspondence received by the Central Cairo Prosecution, stating that Adly fled before police headed to his house to arrest him, for him serve the prison sentence.
The sources added that the investigation is expected to summon his private security guards for interrogation and will include all those involved.
Security sources said that the campaign for arresting him is ongoing, with searches for him continuing and covering all his relations and places where he is likely to hide.
Cairo Criminal Court has convicted Adly and 12 other officials on charges that they acquired illicit gains amounting to LE2.4 billion.
The court sentenced each of: Habib al-Adly, Interior Minister; Nabil Khalaf, Head of the ministry's Central Administration of Finances and Budget; and Ahmed Abdel Nabi, Senior Researcher at the same administration, to seven years in prison, and ordered them to repay around LE196 million, also fining them the same sum.
The court sentenced eight other persons to five years in prison each; and sentenced two others to three years in prison.
In addition to these sentences, Adly, along with nine other defendants, was ordered to repay the government LE529 million.
Adly and the 12 other defendants were referred to criminal court in August 2015 over charges of illicit gains while serving in government posts.
The defendants were accused of using their influence to acquire illicit gains amounting to LE2.4 billion (close to $300 million at the exchange rate of the time) while Adly was interior minister.
Adly, who served as Mubarak's minister of interior from 1997 to 2011, had been released from detention in March 2015, after being acquitted on charges of using his political influence to acquire illicit gains amounting to LE181 million.
Adly has appealed against the verdict but the court rejected his appeal on Tuesday.