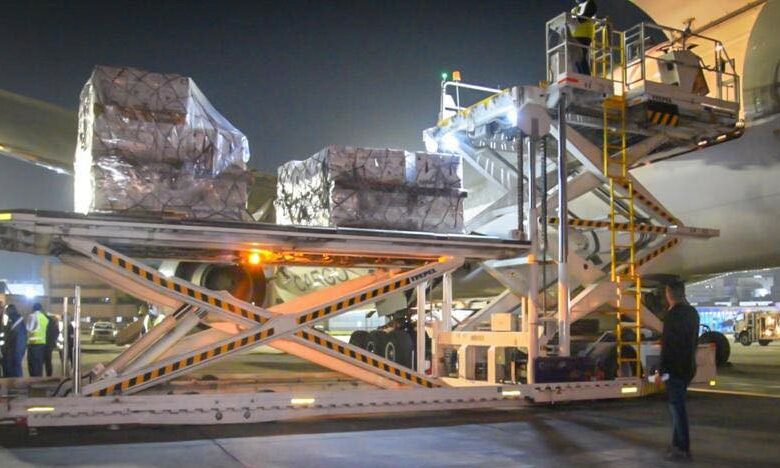 The Egyptian Ministry of Health and Population Sunday announced that it has received 3.89 million doses of coronavirus vaccine produced by the Pfizer company at the Cairo International Airport.
The ministry said in a statement that the shipment comes to Egypt through the COVAX initiative, in cooperation with Gavi, the Vaccines Alliance, under the state's plan to provide a greater variety of vaccines to citizens.
The Pfizer vaccine has emergency use approval from the World Health Organization and the Egyptian Drug Authority, which is two doses separated by 21 days, it added.
And the statement added that the shipment of vaccines received will be subject to analysis in the laboratories of the Egyptian Drug Authority before distributing them to vaccination centers across the country.
The Ministry of Health and Population said that Egypt was able in a short time to provide all coronavirus vaccines, which included the Sinovac, Sinopharm, AstraZeneca, Sputnik, Johnson & Johnson, Pfizer, and Moderna vaccines, as part of the state's plan to diversify and expand the provision of anti-Coronavirus vaccines.
The Advisor to the Egyptian President for Health and Prevention Affairs Mohamed Awad Taj Eddin said on Wednesday that the group of vaccine doses currently available in Egypt is 80 million at a cost of US$500 million.
A statement from the Health and Population Ministry earlier in November said that a total of 41,939.792 coronavirus doses have has been administered in Egypt so far.
The total number of those who received the first dose of vaccine amounted to 27,485,140, and 14,454,652 for second dose.
Egypt has thus far succeeded in providing all types of vaccines against the coronavirus, according to Government reports.
Egypt's vaccination campaign began in January with priority groups and later expanded to university students. Registration for the jab is open to all. The country aims to vaccinate 40 million people by September.