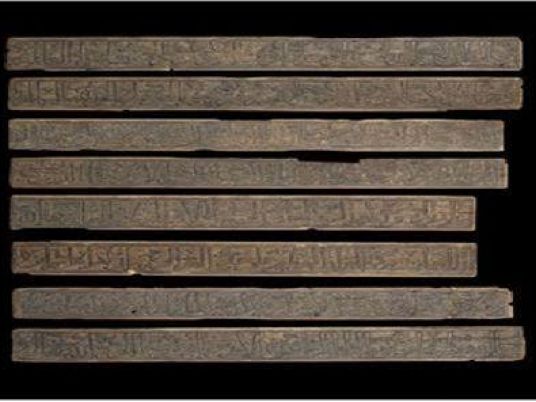 The Egyptian embassy in London received on Monday eight wooden strips belonging to the Tomb of the Abbasid Caliphs in Cairo. The strips were stolen in 2012 during the security void that followed the January 25 revolution.
The Egyptian Antiquities Ministry discovered the pieces on a list of items up for sale at the British auction house of Bonhams, London. The Ministry contacted the concerned authorities to stop the auction and prove Egypt's right to retrieve the artifacts.
The ministry located the strips by looking out for Egyptian antiquities on the listings at famous international auction houses. On Sunday the ministry announced a similar finding, that time of an ancient Egyptian stone tablet, at a Parisian auction house found by monitoring the global auctions websites for antiquities and their social media pages.
The Tomb of the Abbasid Caliphs lies next to the Mosque of Sayyida Nafisa in El Khalifa Street, Islamic Cairo. It was erected by the Abbasid caliph's Ambassador in Egypt, Abu Nadia, in 1242. The Mamluk sultan, Baybars El-Bunduqdari, who reestablished the Abbasid Caliphate in Egypt in 1261, claimed the tomb for the burial of his two sons.
The tomb is famous for several notable features, as described by Caroline Williams in the book, "Islamic Monuments in Cairo:The Practical Guide".
As Williams notes, the tomb's shrine is preceded by a large courtyard with a vaulted hall. On the outside, the tomb has many cusped and ribbed keel arches, typical of buildings of that period. Inside the mausoleum can be seen the cenotaphs of the sons of Baybars and children of Abbasid Caliphs and Abu Nadia.
The mihrab of the tomb is designed on the Fatimid style using a niche that dominates the sanctuary of the tomb, but is set apart by its detailed carving.
Edited translation from MENA