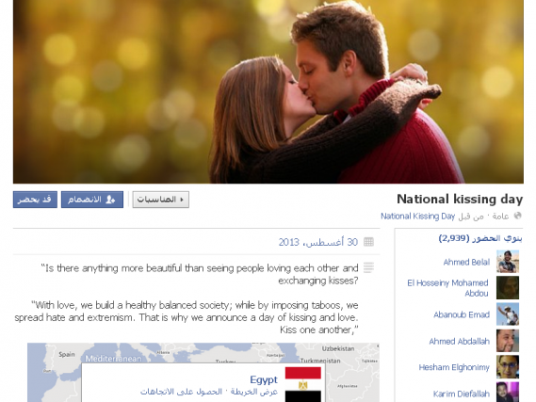 An event to celebrate National Kissing Day in Egypt on 30 August was posted by Facebook users on Tuesday. The invitation was welcomed by thousands of social media users, mostly younger ones.
"Is there anything more beautiful than seeing people loving each other and exchanging kisses?" the description of the event said. "With love, we build a healthy balanced society; while by imposing taboos, we spread hate and extremism."
While many welcomed the invitation, a number of other users fiercely attacked it.
Nagla Ahmed is one of the users who did not exactly fall in love with the idea. "I don't know what to tell you. Can't you do something to serve the country or help out detainees?"
Ahmed called the event "an empty farce."
She went on to curse the revolution which, in her opinion, made society suffer.
Another Facebook user, Alaa Magdi, tried to be more understanding of women's rights, stating that he was against the oppression of women. He still opposed the idea: "I'm not religious, or calling for religion… but how can I grasp that this event is giving women back their rights?"
Karim Al-Gehiny, on the other hand, defended the event. "In brief, this is not an incitement of immorality and debauchery, but a strike against backwardness."
Gehiny voiced disappointment at those insulting the organizers, demanding that the nay-sayers discuss the matter with respect or otherwise ignore the event.
The Kissing Day celebration remained completely symbolic in Hossam Bakir's opinion.
The event page does not announce a specific place to celebrate National Kissing Day, instead leaving each governorate to choose the proper place to celebrate it according to local opinions.