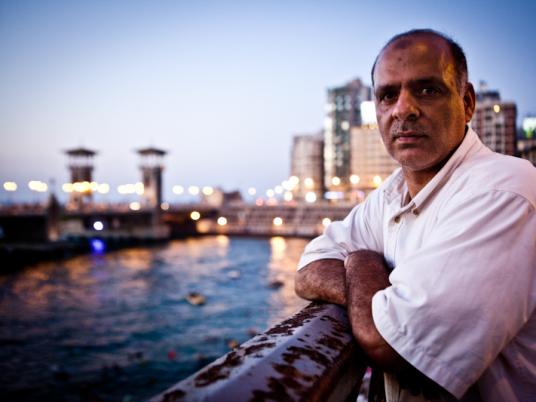 Tariq al-Sawah, an Egyptian national imprisoned at Guantanamo Bay, has been detained by the US for almost 11 years without trial. By his brother Jamal's account, he is a broken man, bereft of hope, vastly obese and severely depressed. His lawyer, Major Sean Gleason, also says he is innocent.
"They've never provided any evidence to support their allegations," said Gleason.
Gleason was assigned to the case in August last year. He immediately applied for a speedy trial so that Sawah could "have his day in court." But the prosecution summarily withdrew its charge — "conspiracy and material support for terrorism" — and thereby returned Sawah to the legal limbo of indefinite detention.
Gleason and Sawah's brother see only one possibility of breaking that limbo: a formal request by the Egyptian government to repatriate Sawah. The two had several meetings at the justice and foreign ministries over the week leading up to 11 July to lobby for such a request, which has been the route home for the vast majority of the 600 Guantanamo detainees who have been released.
Sawah's journey
Despite the various conflicting versions of Sawah's path from Egypt to Guantanamo Bay, this much is not disputed: In 1990, Sawah left the Alexandria of his boyhood to work in Athens, Greece. In 1992, he became involved with a charity working in Croatia to assist Bosnian refugees fleeing sectarian violence.
The next year, he appears to have given up his charity work, and became involved with militias fighting against the ethnic cleansing in Bosnia. After fighting ended at the end of 1995, Sawah married a Bosnian woman and settled down in the country for which he had fought. They had a daughter.
According to the letters that Sawah and his family used to send his brother's family, these were happy times. They worked a small farm, and Sawah taught Arabic in a local orphanage and mosque.
But this was not to last. As part of the 1995 Dayton peace accord, the new Bosnian government had acceded to a Serb demand that foreign fighters be expelled from the country. For some years, this provision went unenforced, but in 2000 it was activated. In no uncertain terms, Sawah was told he had to leave.
"When he was forced to leave in 2000, he was unable to come back here to Egypt because he had fought in the Bosnian conflict — he was afraid if he came back here, the secret police would arrest him. He tried to emigrate to other countries in Europe, but that wasn't approved. One of the few countries that would accept him at that time was Afghanistan," said Gleason.
Having heard that Afghanistan was a "Muslim country," Sawah wanted to see if he could build a life for his family there.
Upon arrival in Afghanistan, Sawah was immediately arrested, and kept in prison for several weeks. Taliban interrogators discovered that he had military experience in Bosnia. It was experience they wanted to make use of.
"The Afghan government told him that they were fighting a similar conflict against the Northern Alliance," continued Gleason. "You know, 'the tribes of the Northern Alliance are raping women, and they're murdering innocent people, and would you help us fight against them?' Tariq agreed to do that. And that's the fight he was in when he was captured less than a year later."
He was captured after having been injured by US cluster bombs while attempting to flee, unarmed, across the border to Pakistan.
Spy stories
Sawah was close to networks of Islamist militants in both Bosnia and Afghanistan. He attended a meeting in July 2001 at which Osama bin Laden was present, and trained Taliban fighters in the use of military explosives. But despite all that, by his account, there would be no basis to convict him of terrorism or taking up arms against the US.
Several leaked official documents hosted on the websites of the New York Times and US National Public Radio provide insight into what seems to be disregard for both fact and coherence on the part of US interrogators.
Sawah's original charge sheet claims that he "traveled to Afghanistan and joined Al-Qaeda to fight against the United States," despite the fact that when he traveled to Afghanistan there was no US presence there, and he had just left Bosnia, where there were several US bases. It also states that he had admitted to membership of Al-Qaeda.
His lawyer said Sawah "has always denied that he was ever associated with Al-Qaeda."
Two 2008 documents state that Sawah was a member of Al-Qaeda for "approximately two years" in Afghanistan, despite the fact that the same documents record that he spent just 14 months in the country before entering US custody. Both say that he "developed a shoe-bomb prototype that could be used to bring down a commercial airliner," matching the design of that used by failed "shoe bomber" Richard Reid.
Yet former FBI special agent Ali Soufan in his book, "The Black Banners," said that the allegation was known to be unsound since 2004.
"I found out that the military interrogators had said to him: 'You're an explosives expert. If you were to build a shoe bomb, how would you do it?' He had drawn them a diagram. That diagram constituted their 'proof.' It turned out that it was a bad drawing, unrepresentative of the shoe bomb Reid used. … They were novice interrogators and didn't understand that you can't just jump to those kinds of conclusions. They admitted that they had messed up," Soufan wrote.
But Soufan added an untrue allegation of his own — that Sawah "fought in the original Afghan Jihad." The leaked documents specifically refute that claim, showing that he spent the entire 1980s in Alexandria.
One of the 2008 documents also claims he fought in Chechnya, even though the same document records his presence in either Bosnia or Afghanistan during the period of both Chechen wars. Ironically, given recent political developments in Egypt, another uses his former membership of the Muslim Brotherhood as evidence of his "commitment" to ideas that would mitigate in favor of his continued imprisonment.
Jamal and family's ordeal in Egypt
In summer 2002, Jamal as-Sawah flew to Egypt for his usual holiday from the US, where he has lived for more than thirty years. At the airport, he was arrested and taken to a holding facility. "I was in a solitary cell, handcuffed, hooded in the cell for ten days before interrogation. And then the interrogation started," he recalled.
At this time, his brother's arrest was not public knowledge; this means, Jamal believes, that the US authorities must have passed his name to the Egyptian security services.
Even once he was let go, the security services wouldn't leave him alone, coming for him at home every few days. "They turned our life into a nightmare," he recalls. "The way they used to come at night, knock on the door, three o'clock in the morning, dragging me down the stairs, in front of everybody in the house. You hear any voice, you think they're coming for you. Anybody knocks on the door, you jump, tell the kids to hide." The visits became much more polite after Jamal complained to an FBI officer around 2008, who promised he would intercede.
However, even back in the United States, Jamal is under constant surveillance. In fact, he says, he has become friendly with the FBI officers that tail him. "They're watching your house, they're watching your wife, they're watching your phone, they're watching your car. You're watched everywhere you go," he said.
Sawah's health
When he first entered Guantanamo, Tariq Sawah weighed around 91 kilograms. Now he weighs nearly 204. Gleason says Sawah's health is in serious danger: He can barely walk 10 feet without having to sit down.
"He can't even lay down on the bed because he's so big that it would cut off his supply of oxygen, so he sleeps sitting up," said Gleason.
Gleason has asked for his client's medical records so that they can be shown to an independent doctor. He has also asked that Sawah see a US military obesity specialist.
Both requests have been denied. According to the lawyer's understanding, a doctor has recently assessed Sawah and "her conclusion was that he was receiving negligent medical care."
Even leaving medical care aside, Sawah's obesity raises questions about the duty of care being exercised toward him.
"They can control what he eats, they can control what he does, and yet he's gained over 250 pounds," notes Gleason.
Soufan suggests that Sawah was brought ice cream to lift his mood during interrogations in 2004, despite the fact that he was already overweight. A source also told the Washington Post that Sawah was "enticed" with takeout meals to participate in show questionings for visiting officials. Now, according to Gleason, "based on his weight, based on his age, he's at a high risk of death."
When Sawah's brother Jamal first saw his brother, over Skype, he was shocked. "He was delirious, he was dizzy, he was so … huge. He aged so much. Of course, he'd been detained without hope," his brother said.
The deep blue sea
As his brother tells it, Sawah was once a man with a great many hopes. They both grew up in Ibrahimiya, a working-class neighborhood of Alexandria that was full of Greeks, Armenians and Italians.
The salary of their father, a government employee, wouldn't always stretch to the end of the month, so he'd take the two boys to hunt birds in what were once the marshlands of Semouha, and fish in the sea. It was a happy childhood, Jamal recalled, full of laughter.
The boys used to dream of growing up and living in the US, "American cars, blonde women." Even now, when the two talk — as they are allowed to for an hour every three months — their conversation turns to that boyhood dream. The two had wanted to move their families to Florida, and go fishing for barracuda in the deep blue sea off the Florida Keys.
Sawah will now never live in Florida, nor will he cast his line into the waters that separate Miami from Cuba and Guantanamo Bay. These days, he sits in his cell, on the other side. Reportedly, among the few pleasures he is allowed, he paints pictures of the sea.
This piece was originally published in Egypt Independent's weekly print edition.