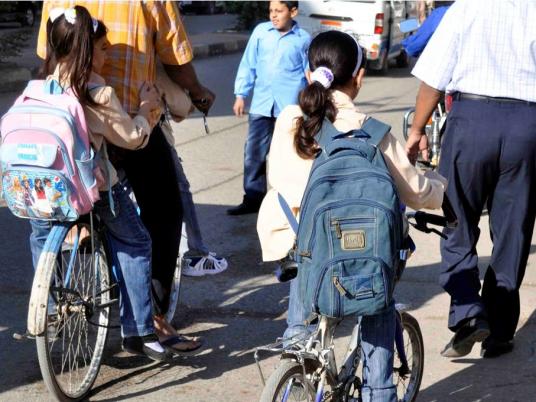 According to UNICEF, 95.4 percent of the population in Egypt aged between six and 18 years old is enrolled in school. Primary and prepatory school is mandatory for all students. These millions of students are distributed across thousands of schools nationwide. But, despite the high enrollment, UNICEF says that "the quality of education remains a major challenge that hinders the capacity of children to develop to their full potential."
The quality of schools and tuition value is often related to the quality and number of languages offered in a school. That conception is not immediately evidence by the four types of schools in Egypt: public, private, national institutions, and expat and embassy schools.
Public Schools
Public schools are completely the responsibility of the Education Ministry. They are funded, supervised and managed by the ministry and are supposed to be free to the general public. About 92 percent of students attend public schools. However, according to reports conducted by UNICEF, most of these schools are full of students but lack proper facilities, resources and teachers.
Public schools are divided into two types: local Arabic schools and experimental schools. Local Arabic schools offer the Egyptian curriculum in Arabic, but do not offer high-level language instruction. Experimental schools are public schools that offer their curriculum in a foreign language.
National Institutions Schools
These schools are institutions that are not privately owned but are related to national institutions and administrations. They are schools connected to Co-op schools, which are semi-private schools with high language standards and school fees close to private school fees. They are owned by social institutions, not individuals. The English School in Heliopolis is an example of a National Instiutions Schools.
Al-Azhar schools are similar to national institutes in that they are neither public or private. These schools follow a private, Islamic-oriented curriculum set by Al-Azhar University. They are not the responsibility of the Education Ministry, and, like embassy schools, do not fall under its jurisdiction. Students educated in Al-Azhar schools usually go on to study at Al-Azhar University. Fees are paid, but they are not governed by the laws governing private schools.
These are schools that are not connected to the Ministry of Education in any way. While on Egyptian land, they are related to their embassies. Members of the student body are mainly from the nation of their respective embassies and follow their own curriculum. There are only a handful of these schools in Egypt, and according to the Ministry of Education's Private Schools law, these schools do not fall under the private school sector. Eman Morsy, an International School's Registrar advisor and expert in student services, says that since these schools do not offer the courses required by the ministry in Arabic, Religion and Social Studies, Egyptian universities are not likely to admit students from these schools.
Private schools edcuate just 8 percent of students. Many open with the national curriculum, but seek, or eventually earn, accreditation to offer other kinds of diplomas, including the British General Certificate of Secondary Education, the International Baccalaureate and the French Baccalaureate.
Other schools are privately owned but offer a national curriculum. Whether these national schools are language-based or Arabic schools, they offer advanced language classes, giving them an edge over local public schools.
Missionary and Religious Schools also teach the national curriculum but have a religious mission. They do not have a special license, are legally national schools and are subject to Egyptian laws. Islamic schools are also based on their owner's mission. They do not stray from the Egyptian religion curriculum and are also subject to supervision from the Education Ministry.
Language or International Schools come under the supervision of the Ministry of Education but offer a final degree other than the thanaweya amma. Their curriculum is based on the system they are accredited by.
This piece was originally published in Egypt Independent's weekly print edition.