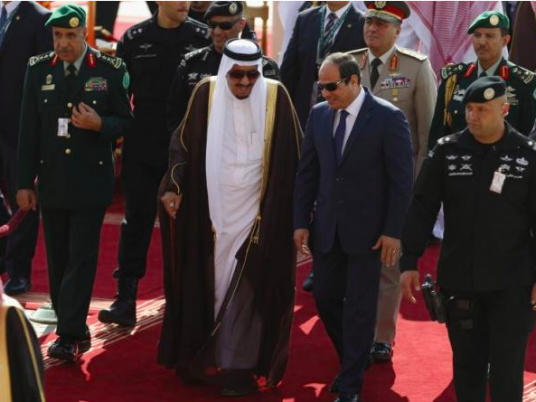 Egypt and Saudi Arabia have signed 36 agreements and memorandums of understanding (MoUs) representing Saudi investments of up to US$25 billion.
The signing of the agreements took place in Egypt's Abdeen palace in the presence of Egypt's President Abdel Fattah al-Sisi and Saudi's King Salman, during a rare five-day visit to Egypt, which started on Thursday and ends on Monday.
The two sides signed 24 agreements, nine MoUs and three programs for cooperation, in addition to the creation of several joint companies to develop the economic zones in Suez Canal area and boost exports.
Neither Egypt nor Saudi Arabia made any official statements concerning the value of the individual agreements, sources of funding, starting dates or deadlines.
However, International Cooperation Minister Sahar Nasr said in a press release on Sunday that the total value of agreements signed during the Saudi king's visit is estimated at $25 billion.
Among the key deals announced was a new Saudi-Egyptian investment fund with a capital of 60 billion riyals.
Egyptian state TV said the agreement was to establish "a Saudi-Egyptian investment fund with a capital of 60 billion riyals between the Saudi Public Investment Fund and the entities belonging to it and the Egyptian government and the entities that belong to it."
Also announced were a economic free-zone and housing, electricity, road and agriculture projects aimed at developing Sinai. The economic free-zone is to be established in Sinai under an agreement between the Saudi Public Investment Fund and the Egyptian International Cooperation Ministry.
The two countries agreed to develop a 2,250 megawatt electricity plant at a cost of $2.2 billion, set up agriculture complexes in Sinai and develop a canal to transfer water, a statement from the Presidency said.
The statement also said that a company was set up to develop 6 square kilometers of the industrial zone around Egypt's Suez Canal worth $3.3 billion, without giving further details.
On Friday, King Salman announced that a bridge connecting Egypt and Saudi Arabia would be built across the Red Sea, linking the two nations directly by road, thus opening up a new trade route.
Linked with the planned bridge was an agreement on the demarcation of maritime borders, which resulted in the return of the islands of Sanafir and Teeran to the control of Saudi Arabia after more than 60 years under Egyptian control.
A statement by Egyptian Cabinet on Saturday said, "The demarcation resulted in locating Sanafir and Teeran islands within Saudi territorial waters."
The statement added, "Deceased King Abdullah bin Abdel Aziz asked Egypt in January 1950 to protect the two islands. Egypt responded to his request and has been protecting them ever since."
Several days ago, ahead of the Salman's visit to Egypt, the Egyptian General Petroleum Corporation signed an agreement with Saudi Aramco to provide Egypt with its petrol needs for five years in return for $23 billion.
Factoring in the deal with Saudi Aramco, the total value of agreements signed over the 10-day period amounts to around $45.65 billion.
Edited translation from Al-Mary Al-Youm