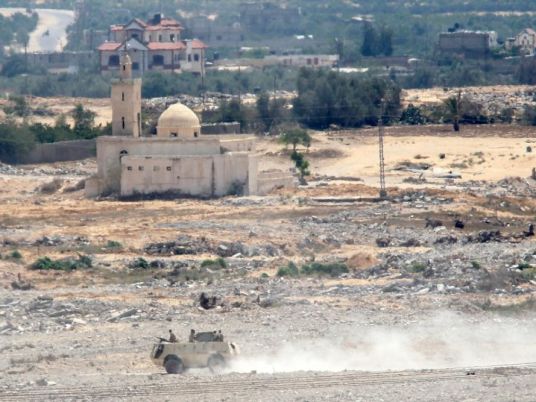 The Egyptian army killed 88 suspected militants in security campaigns in North Sinai in the period between July 20 and July 31, relying on "confirmed information" from security agencies and citizens, the army spokesman said Sunday.
The operations incurred "heavy losses" on the suspected militants, spokesman Mohamed Samir said in a statement published on his official Facebook page.
Security forces arrested two wanted individuals and 56 suspects, Samir said.
They also destroyed nine meeting points belonging to the suspected militants and discovered and destroyed two warehouses used to store explosive material.
Dozens of improvised explosive devices that were ready for use against army forces were destroyed, Samir added.
Militancy has surged since July 2013, with the northern part of the Sinai peninsula being the site of most attacks.
In July alone, North-Sinai based militant group, Ansar Bayt al-Maqdis claimed responsibility for at least four attacks, including an attack on a naval vessel.
The group which changed its name to Sinai Province after pledging allegiance to Islamic State fighters last November, is increasingly claiming responsibility for attacks in Egypt.