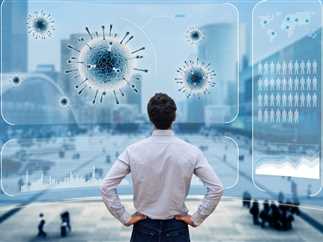 The Ministry of Health and Population said on Saturday that it is following the epidemiological situation in Egypt and the world, regarding reports about the emergence of a new variant of coronavirus called Omicron.
It added in a statement that the commitment to implement public health and social measures, including wearing a protective mask, physical distancing, washing hands, and receiving vaccine, represents the first wall of defense in preventing and controlling the spread of coronavirus.
The spokesman for the Ministry of Health and Population, Hossam Abdel-Ghaffar, added that the ministry is also evaluating all procedures and measures on an ongoing basis, according to the developments in the epidemiological situation of coronavirus in the world.
He stressed that vaccines remain the main tool for preventing severe cases and deaths from COVID-19 infection.
Abdel-Ghaffar pointed out that the government is working hard to vaccinate a larger number of citizens, with priority given to groups at high risk.
He said that Egypt was able in a short time to provide all the vaccines against coronavirus, which included Sinovac, Sinopharm, AstraZeneca, Sputnik, Johnson & Johnson, Pfizer, and Moderna vaccines.
Abdel-Ghaffar added that the provision of these vaccines comes within the state's plan to diversify and expand the provision of coronavirus vaccines, in order to preserve the gains in addressing the pandemic.
The Ministry of Health and Population appealed to citizens to register on the ministry's website https://egcovac.mohp.gov.eg/#/registration to receive coronavirus vaccines.