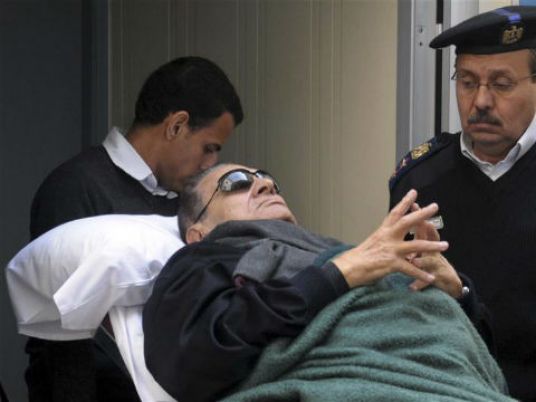 The Cairo Court of Appeals set on Monday the first retrial session for former President Hosni Mubarak and his sons over embezzlement charges, due to be held on April 4.
Egypt's Court of Cassation ordered on January 13 a retrial for Mubarak over embezzlement charges for which he has been convicted last year.
In May 2014, a Cairo court sentenced Mubarak to three years in prison for seizing over 125 million Egyptian pounds allocated to presidential palaces. His two sons, Alaa and Gamal Mubarak, were sentenced to four years in prison for aiding their father in embezzling the sum of money.
The former president was serving his sentence in a military hospital in Cairo.
Mubarak's lawyer, Farid El-Deeb filed the challenge last July, calling for the sentence to be overturned.
Mubarak and his two sons were taken into custody in April 2011. Alaa and Gamal have been jailed since then and until a release order was issued for them last January, while Mubarak was released in August 2013, when he was put on house arrest in a military hospital.
The three men will be retried from outside court.
The Cairo Criminal Court dropped on November 29, 2014 the case against Mubarak over complicity in the killing of protesters during the 18-day January 2011 uprising which toppled his regime.
The court also acquitted Mubarak's Interior Minister Habib al-Adly and four of his aides on charges of inciting and aiding the killing of 238 protesters.
Egypt's top prosecutor, Hisham Barakat, approved in January the grounds for appeal in the case. The case now awaits a decision from the Court of Cassation, which would consider a retrial.