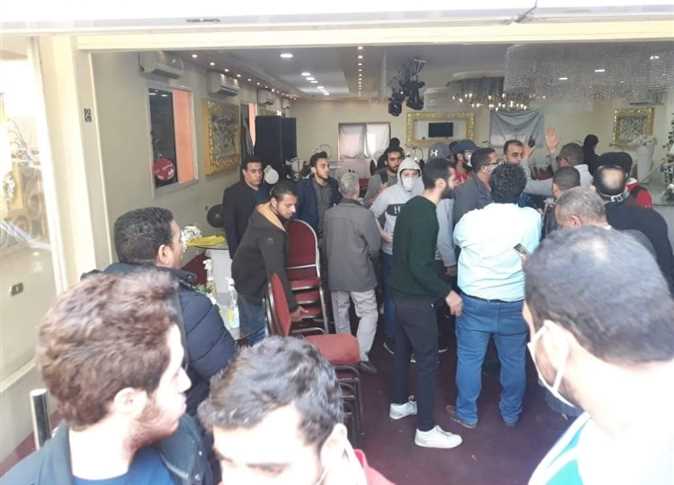 Giza authorities have closed and imposed fines on around 200 cafes, restaurants, commercial stores and cafeterias for violating rules set by the government to curb the spread of coronavirus (COVID-19).
Giza Governor Ahmed Rashid led a crackdown on Wednesday until the early hours of Thursday against violators in the governorate.
A popular restaurant on Faisal Street was closed by authorities for violating nighttime closure rules and using curtains to hide the fact that it remained open. Rashid ordered a fine to be imposed on the restaurant and had it shut down. 
He also sealed and took legal measures against wedding halls on al-Bahr al-Aazam Street in south Giza that were used to hold private lessons for students.
The governor's crackdown extended to the streets of al-Ahram, Faisal, al-Bahr al-Aazam, Rabei al-Geezy, Murad, al-Gamaa, Tharwat, Tahrir, Muhyiddin Aboul Ezz, Shehab, Game't al-Duwal (Arab League), Mit Oqba, Sudan, and a number of other well-known streets in Bulaq and north Giza.
On Tuesday, Prime Minister Mostafa Madbouly imposed a two-week nationwide curfew from 7 pm until 6 am beginning on Wednesday and extended school closures an additional two weeks to fight the spread of coronavirus.
Egypt had already closed mosques and churches across the country, banned shisha at cafes, and asked non-essential stores and shops to close each evening before the curfew announcement.
Under the curfew, nonessential shops will be closed from 5 pm until 6 am during the week, while stores will be subjected to a complete shutdown on Fridays and Saturdays.
The closure decisions do not include bakeries, pharmacies, grocery stores or supermarkets outside shopping centers, Madbouly said.
Cafes, sports clubs, and gyms are closed for the next two weeks while restaurants are limited to deliveries only.
Violators of the curfew face penalties ranging from a fine of LE 4,000 to imprisonment.
Cairo police and local authorities have also launched a crackdown on street vendors at the popular Ataba and al-Mosky markets, following orders from Cairo Governor Khaled Abdelaal to prevent overcrowding in outdoor marketplaces amid the virus outbreak.
Meanwhile, museums and tourist sites across the country also closed down on March 23.
Egypt has confirmed 456 cases of coronavirus.
Twenty-one people have died from the virus, as well as two senior military officers.