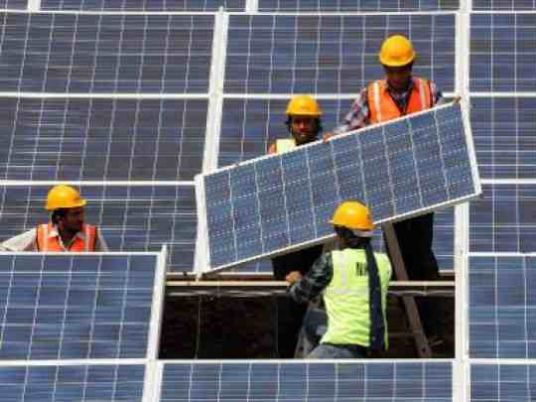 Egypt Electricity Minister Mohamed Shaker signed on Saturday a framework agreement with the International Solar Alliance (ISA) in the presence of the Ambassador of India in Cairo Sanjay Bhattacharyya. Shaker said that by signing the agreement, Egypt will become a founding member of ISA because of its numerous sources of renewable energy, especially solar.
He pointed out that the alliance aims to address the main challenges related to solar energy and will expand its use among the member states in accordance with their needs.
Shaker added that the ministry is considering the technical point of contact with the alliance, which does not require any contributions for its membership, as it depends on voluntary contributions, and its programs and activities are carried out by the member states.
He said that ISA guidelines include the cooperation of its members in the implementation of coherent programs and voluntary activities to finance solar projects.
Shaker pointed out that Egypt's accession to the ISA enables it to benefit from its support to its members with the necessary expertise, especially as it seeks to address the challenges of solar energy in these countries. It also seeks to raise US$1 trillion from international financing for solar projects in the form of concessional finance.
In addition to strengthening relations of cooperation with the members of the coalition, which is constituted of 50 countries, including five Arab countries, activities can be proposed and implemented by member states of common interest, in coordination with the secretariat of the ISA, which can contribute to achieving the priorities of Egypt in this field.
Edited translation from Al-Masry Al-Youm