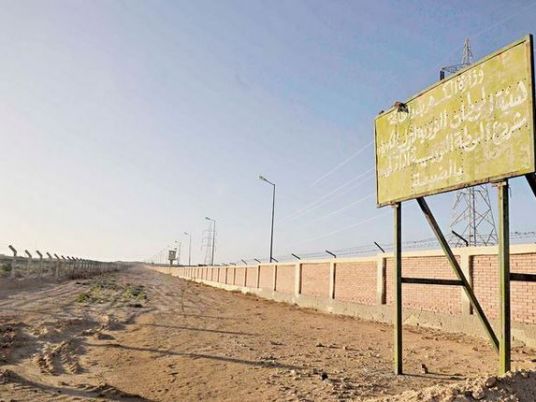 Egypt's Nuclear Power Plants Authority started community dialogue on the country's first nuclear power plant in Dabaa, Matrouh governorate on Saturday.
The yesterday's meeting was attended by Matrouh governor Alaa Abou Zaid, Electricity Minister Mohamed Shaker, Commander of the Northern Military Command Major General Mohamed Lotfi, chairman of the Nuclear Power Plants Authority Hassan Mahmoud, and popular leaders and executives in the governorate.
The meeting reviewed the outcomes of a study on the environmental effects of the project to Dabaa city of Matrouh.
Shaker said that Dabaa plant does not make any gas emissions pollutions, or greenhouse gases, as well as it has the highest global safety rates used to generate electricity in nuclear power stations.
He added that the project provides a number of social, economic and cultural advantages, including that it provides 10,000 new jobs for the youth of Matrouh during the construction period, which extends to nearly eight years, as well as at least four thousand other jobs after it's operated.
Matrouh governor said that the community dialogue comes to open all channels of communication popular and official for discussion and constructive dialogue, on the establishment of the nuclear project on the land of Dabaa.
Moscow and Cairo signed an agreement in November 2015 for Russia to build a nuclear power plant in Egypt, with Russia extending a loan to Egypt to cover the cost of construction.
Russia's state-owned nuclear firm Rosatom said the plant, Egypt's first, would be built at Dabaa in the north of the country and was expected to be completed by 2022.
Russia will loan Egypt US$25 billion to finance building and operating the nuclear power plant. Egypt will pay an interest rate of 3 percent annually. Installment payments will begin on October 15, 2029.
President Abdel Fattah al-Sisi said the loan would be paid off over 35 years. The loan will finance 85 percent of the value of each contract for the work, services and equipment shipping. Egypt will finance the remaining 15 percent.
The plant will be built in Dabaa, a site in the north of the country that Egypt has been considering for a nuclear power plant on and off since the 1980s. It is due to be completed in 2022, and the first of its four reactors is expected to begin producing power in 2024.
But Cairo froze its nuclear plans after the 1986 Chernobyl disaster and only announced in 2006, under former President Hosni Mubarak, that it intended to revive them. Mubarak was then overthrown in a revolution in 2011.