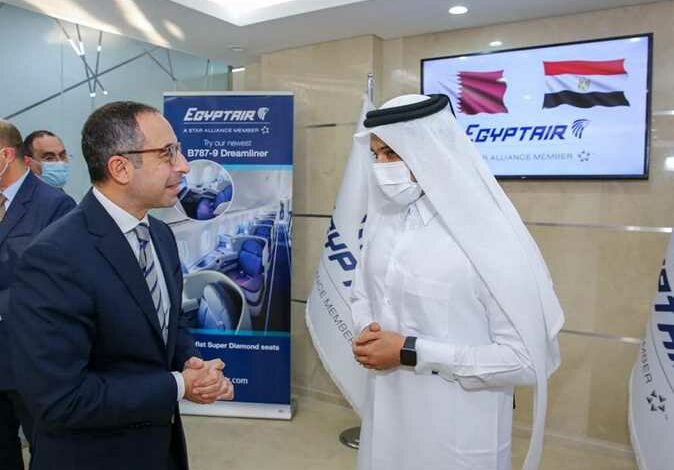 The Egyptian Ambassador to Doha Amr al-Sherbiny on Tuesday participated in the inauguration of an office for Egypt's flagship carrier EgyptAir in the Qatari capital of Doha.
The inauguration ceremony was attended by the Chairman of the Board of Directors of the Holding Company for EgyptAir Amr Abu Elenien, the Acting President of the Qatar Civil Aviation Authority Muhammad Al-Hajri, the CEO of Qatar Airways Akbar Al-Baker, and the Secretary-General of the Arab Air Carriers Organization (AACO) Abdulwahab Tofaha.
Sherbiny said that the opening of the EgyptAir office follows a visit by the President of the Egyptian Civil Aviation Authority Ashraf Nowier to Doha in September, and the signing of a memorandum of understanding in the field of air transport with the General Authority of Civil Aviation in Qatar, according to which the number of EgyptAir flights to Doha was increased.
Egypt and Qatar agreed to resume diplomatic relations in January. The agreements come after nearly four years of a row between Qatar and Egypt, Saudi Arabia, Bahrain, and the UAE over Qatar's alleged terrorism sponsorship and its close relations with Iran.
Egypt's Foreign Ministry has acknowledged in January the agreements, which came as part of the "solidarity and stability" agreement signed by Saudi Arabia, the United Arab Emirates, Oman, Kuwait, Bahrain, and Qatar during the Gulf Cooperation Council (GCC)'s summit meeting in al-Ula.
Egypt and the other three countries involved in the dispute agreed to restore ties with Qatar immediately after the summit. The dispute included a trade and travel embargo against Qatar by the Arab quartet, which has now been lifted.
Despite the agreement, Egypt likely remains wary of Qatar due to its connections with the Muslim Brotherhood and the harsh coverage Cairo receives from Qatari media, specifically state-run Al Jazeera.