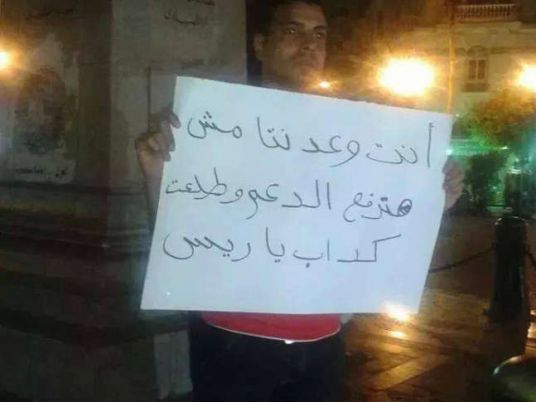 Mohamed Fouad, 6 April Movement spokesperson, said police arrested political activist Mohamed Nassar for standing in Tahrir Square with a banner that read, "You [president] promised not to remove the subsidy, but you turned out to be a liar."
"Mohamed Nassar has been arrested and he is now in Qasr al-Nil police station," Fouad said on Monday on Facebook. "Mohamed held the banner and stood alone in Tahrir Square. He was arrested for holding a banner."
According to Fouad, a police report was filed accusing Nassar of spreading rumors and harming public peace. He was referred to prosecution on Monday.
The government's decision to remove subsidies on fuel and energy, in an effort to reduce the budget deficit, has provoked the wrath of citizens as fares of many transportation means nationwide went up.
The 6 April Movement was a major opponent of toppled presidents Hosni Mubarak and Mohamed Morsy. It also rejected the control of the military and stands against President Abdel Fattah al-Sisi.
Edited translation from Al-Masry Al-Youm