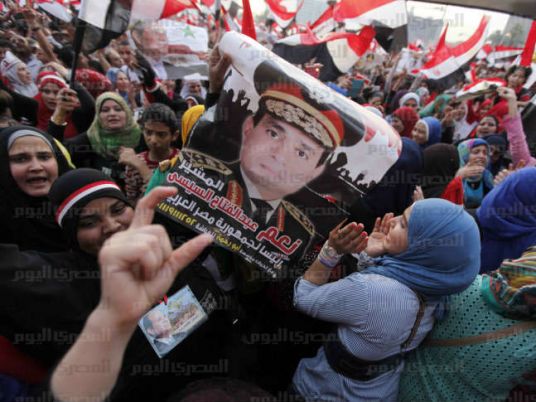 The popular diplomacy delegation, consisting of a number of public figures and members of the House of Representatives (MPs), met Monday with the public figures of the Egyptian expatriate community in the states of New York and New Jersey.
The chairman of the American Coptic Association (ACA), based in Jersey City, Adel Ageeb hosted a reception for the delegation in Paterson, New Jersey, in the presence of Ahmed Farouk, the Consul General of Egypt in New York.
Ahmed al-Fadaly, head of the delegation, said the popular diplomacy team aims to pressure US administration officials and members of Congress to classify the Muslim Brotherhood as a terrorist organization, because of its violations against the Egyptian people and others.
Fadaly added that Egyptian expatriates in the United States of America represents Egypt's true ambassadors and a source of public backing for the Egyptian state's policies.
He pointed out that the delegation includes a large number of public figures such as high-profile political analyst and MP Emad Gad, former Egyptian ambassador to Washington Mohamed Tawfiq, and deputy Parliament speaker Suleiman Wahdan.
Fadaly pointed out that the delegation is meeting with US policy makers from research centers and from Congress, to help in supporting the draft law that will be presented, aiming to classifying the Muslim Brotherhood as a terrorist organization in America. He pointing out that the delegation will meet as well with members of the Egyptian community in Philadelphia and Washington.
The chairman of the American Coptic Association (ACA) Adel Ageeb said that the ACA, in cooperation with the Egyptian community, will organize trips to Washington on April 3 to receive the president; and will join efforts with the popular diplomacy delegation to have the Muslim Brotherhood placed on the official list of terrorist organizations.
Deputy Parliament speaker Suleiman Wahdan said that Egypt is the only country fighting terrorism on behalf of humanity and sacrificing the best of its young Muslims and Copts daily; he criticized the failure of some media in presenting the true measure of those sacrifices.
Wahdan added that the Brotherhood stands against the values of tolerance and peace in the world. And called on all Egyptians in the United States to make efforts to raise the awareness of Americans in this regard.