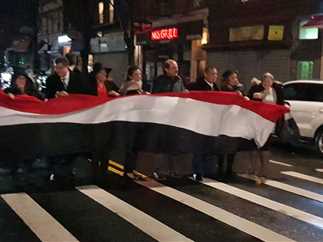 A delegation of the so-called Egyptian People's Diplomacy group held a public conference with members and leaders of the Egyptian community in Brooklyn, New York, during which they reviewed the achievements of President Abdel Fattah al-Sisi and called on Egyptians to vote in the upcoming presidential elections scheduled for March 26-27.
Under the slogan "Vote by millions and a strong popular will," they called on people to go out in unprecedented numbers to vote for Sisi.
The group announced the formation of popular committees to help and guide Egyptian expatriated wishing to participate in the elections.
The conference lasted until the early hours of Tuesday morning, followed by members of the Egyptian community marching on the streets holding Egyptian flags.
The conference was attended by Ahmed al-Fadaly, the head of the delegation, Ahmed Khatab, former Assistant Foreign Minister, Saeed Hasasin, Chairman of the Democratic Peace Party's Parliamentary Committee, and other political activists.
Edited translation from Al-Masry Al-Youm