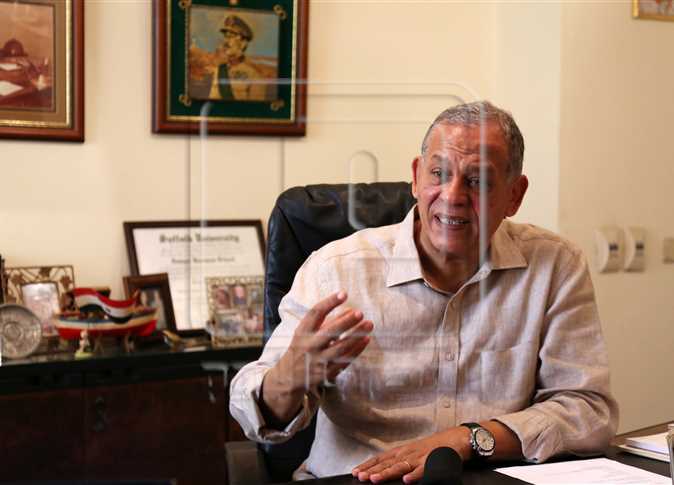 A number of Egyptian political figures on Sunday issued a statement condemning the upcoming presidential elections, saying that they have lost their legitimacy following recent repressive practices imposed by the government.
Signatories of the statement included former presidential candidate Abdel Moniem Aboul Fotoh, Head of Egypt's Reform and Development Party Mohamed Anwar al-Sadat, Hazim Hosni, who was chosen by former Chief of Staff and presidential hopeful Sami Anan as his deputy, Hisham Genena, who was also chosen by Anan as his deputy in case he runs in the elections, in addition to Essam Heggy.
The statement condemned "the confiscation of the right of Egyptians to free presidential elections."
The statement called for canceling the presidential elections altogether and to stop the work of the National Elections Authority and to dissolve its board.
They also called on people to boycott the elections and not to recognize their outcome.
The figures also expressed concern over potential plans by the government to modify the constitution to make the time a president serves be limitless, which would eliminate any opportunity for peaceful handovers of power.
They also warned against the continuation of policies applied in the past years and the destruction of all aspects of democracy and the separation of institutions in favor of security policies.
The signatories denounced what they considered security and administrative practices taken by the regime to prevent any fair competition in the upcoming presidential elections, and said that the latest was the attack on the judge Hisham Geneina.
The statement added that obstacles were put in place before the elections to create a climate of fear, media and government bias, followed by the election timetable, which they described as very tight, and does not provide a real opportunity for competitors to show their electoral programs.
They referred to the attempts to clear the arena from all candidates, through fabricating a case against lawyer Khalid Ali, and the imprisonment of a number of members of his campaign. They also criticized the alleged manipulation of the process of collecting the required endorsements, which resulted in Ali's withdrawal from the race, in addition to what they considered pressure on former Prime Minister Ahmed Shafiq, and the withdrawal of Mohamed Anwar al-Sadat's candidacy.
The statement pointed out that the restrictions reached their limit by the arrest of presidential hopeful Sami Annan, and the decision by the National Elections Authority to remove his name from the electoral list before any investigation or sentence had been issued against him, which indicates the lack of neutrality of state institutions and authorities.
Edited translation from Al-Masry Al-Youm