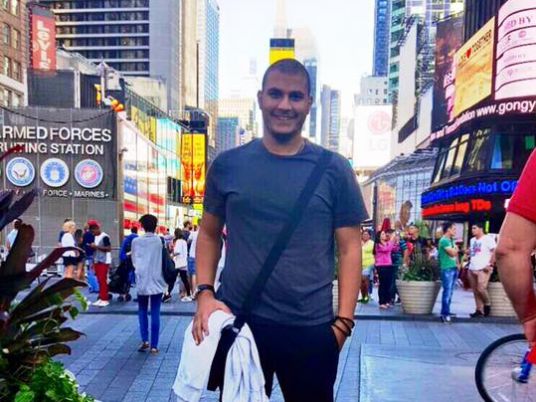 An Egyptian student in the US has agreed to leave the country after authorities arrested him for a Facebook comment allegedly threatening to kill US Republican presidential hopeful Donald Trump, according to the NBC news network.
At a hearing on Friday night, US immigration authorities said that Emad Eddin al-Sayed, 23, must return to Egypt voluntarily by July 5 or be deported.
Sayed, who has been studying at a flight school in Southern California, was originally arrested on February 12 in Los Angeles after reports of a Facebook post allegedly threatening to kill Trump.
NBC said Sayed was angered by comments made ​​by Trump on preventing Muslims from entering the United States and wrote a comment about it on Facebook on February 3, saying he was ready to kill Trump and that the world would thank him.
Sayed's lawyer Hani Bushra said the US authorities interrogated Sayed the day after he wrote his comment, and inspected his house and personal computer.
"He has to be escorted from jail directly to New York, where he will take the Egypt Air flight to Cairo," say Sayed's lawyer. "We are now trying to work on expediting this process as fast as possible."
The head of Universal Air Academy in El Monte has expelled Sayed, thereby invalidating his student visa for the United States, while immigration officials have declared him a danger to the community.
"He's just a student who said something foolish, and it's being taken way out of proportion," Bushra said earlier this week, according to NBC.
Bushra said that after an investigation it was decided not to bring criminal charges against Sayed, meaning that deporting him was an over-reaction.
However, the lawyer admitted that it was understandable that US authorities would be jumpy about such threats, particularly given that some of the alleged 9/11 hijackers were also enrolled at flight schools, NBC reported.
Earlier, Sayed's family had reacted angrily to his detention and potential deportation, particularly since it took them some time to discover where he was being held.
"Land of the free? Rights denied? What's the crime?" Ohoud al-Sayed, the student's sister, posted on her Facebook page."
"Supposedly the USA is the land of the free," Ohoud said.