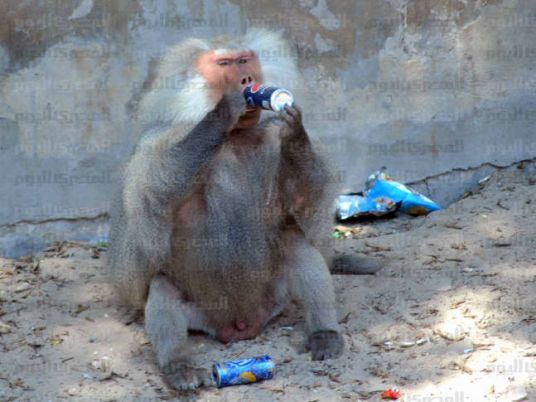 Security precautions have been improved at Egypt's zoos for the of Eid al-Fitr vacation, which officially starts on Wednesday, say officials.
The improvements are aimed at making zoos safer for visitors over the holiday period, said Dr Mohamed Ragaey, the head of the Central Administration of Zoos, part of the General Authority for Veterinary Services.
The improvements, which are the result of co-operation between the Agriculture Ministry and the Interior Ministry, are aimed in part at reassuring visitors to zoos during a holiday renowned for sexual assaults in public places.
Dr. Rafaat Abd Allah, the manager of all zoos that fall under the General Authority for Veterinary Medicine, said in a press statement that emergency precautions have been taken at zoos, which are now better equipped to deal with overcrowding than before. He said zoo staff are now able to deal with emergencies as they arise, without having to wait for the police to arrive.
According to Ragaey, Giza Zoo had seen a large number of visitors on Wednesday morning, attracted in part by the addition of several new animals, including a brown bear, an iguana and a fennec fox. Visitors were also keen to see the goats, pelicans, the gnus, as well as elephants and bears, he said.
In addition to Giza Zoo, there are seven other zoos and animal parks across Egypt, including Orman Park in Giza and the Antonias and Montazah parks in Alexandria.
Giza Zoo has come under sustained criticism over the years or the poor conditions in which animals are kept, with a number of animal rights organizations claiming that enclosures are too small and that animals suffer from stress and depression due to their captivity.
There have also been numerous incidents of visitors to Giza Zoo mistreating animals, such as giving cigarettes and inhealthy foods to the monkeys and throwing garbage into their enclosures. Zoo keepers are also in the habit of taking money from visitors in return for allowing them to feed animals and enter their enclosures.
In 2012, animal welfare organization "Occupy for Animals" launched a campaign demanding the closure of seven government zoos, calling the "hell holes" in which animals suffer injuries, untreated diseases and starvation.
The group's website displayed a set of photos depicting mistreated or wounded animals in zoos around the country. Among them were severely injured wolves in Fayoum Zoo, a baboon living in a small, dirty cage in Tanta Zoo, a deer severely infected by skin disease at Giza Zoo, a starving lion and a camel suffering from a tumor at Alexandria Zoo.
In 2013, officials concluded that a South African baby giraffe named Roca had committed suicide in Giza Zoo, choking itself to death on a metal shade structure rather than continuing to live in its enclosure. In 2015, a 23-year-old orangutan named Bong died of heat stroke at Giza Zoo.
Several international organizations have offered assistance to the zoo in making improvements for the sake of the animals, but critics say it still far below international standards for animal care.
In 2014, Egypt was suspended from the World Association of Zoos and Aquariums due to the poor treatment of animals.