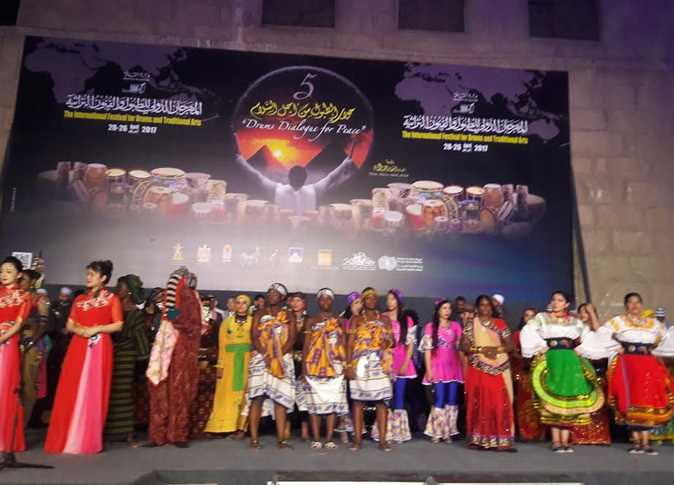 Egypt's Sixth Annual Drum and Heritage Arts Festival will take place between 20 and 27 April, announced Intisar Abdel-Fattah, founder and president of the festival during a media conference on Tuesday in Cairo Opera House.
Abdel-Fattah said that this year's conference will include 22 countries: Sri Lanka, Estonia, Algeria, Saudi Arabia, China, Maldives, Mexico, India, Greece, Pakistan, Palestine, Syria, Bulgaria, Poland, Thailand, Tunisia, Armenia, Indonesia, Ghana, Nigeria, Sudan and the host country Egypt.
Six teams will be representing Egypt under the auspices of Ministry of Culture: Areesh troup, Sohag troup, Sharkia troup, Alexandria troup, Sinai troup and Tushka Troup, in addition to five troops that will participate in the name of the Minsitry of Youth and Sports.
The festival will also include independent troops such as: Nubian Independent Troop, Hizbullah Troop in addition to Arab and European Troops.
Abdel-Fattah added that Sri-Lanka has been chosen as the guest of honor for the festival, due to its extremely unique arts.
As for the participating acts, Abdel-Fattah highlighted that Sinai Troop for Arts will be performing the closing ceremony act titled "Sinai's Wedding."
Moreover, several workshops will take place during the festival, including a workshop with the audience during the opening ceremony, an African Arts Workshop and a children's workshop as well as several exhibitions including one that highlights classic Egyptian handmade products.
Abdel-Fattah added that the festival comes as part of the Ministry of Culture's efforts to bridge different cultures all around the world saying, "arts remain a language and a bridge connecting different cultures and people of the world, and encourage dialouge and understanding."
Abdel-Fattah announced the names of those who will be honored in the festival including Dr. Moahmed Arab, ex-Minsiter of Culture, Ex-Minsiter of Planning Ashraf Al-Arabi, Ambassador Mona Omar, Egyptian Author Haggag Adole, in addition to UNESCO, which will be acknowledged for its efforts to raise cultural awareness all around the world.
Different events will take place during the festival all around Cairo including at Salah Al Dein Fortress, Ghoury Fortress, Moez Street, Horreya Garden next to Opera, Hanager Theatre, and Al-Korba, among others.
Last year's edition of the festival took place under the auspices of former culture minister Helmy Al-Namnam in April 2017 and included around 25 troops.
The festival also included a carnival in Moez street.
The Drums Festival was founded in 2012 by Intissar Abdel-Fattah, expert of cultural and arts in the Ministry of Culture and General Manager of Al-Ghouri Arts Center.
He is responsible for the establishment of several art groups such as Egyptian Arts Troup.
He was awarded in several national and international festivals. He is also the founder of several other cultural events in Egypt such as "Sama3" Festival for Spiritual Music.