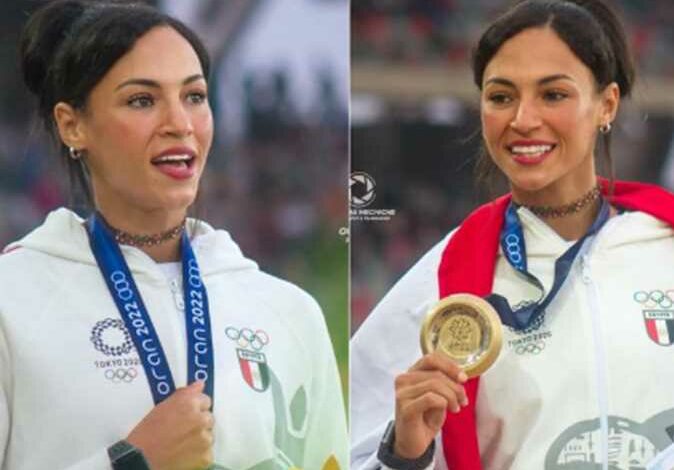 Egyptian champion sprinter Bassant Hemida won the gold medal in the 200-meter sprint at the Mediterranean Games in Oran, Algeria.
Hemida ranked first with 22.47 seconds in a new Olympic figure, winning the second gold medal for Egypt.
She had previously achieved a gold medal in the 100-meter race, setting a new record for the Mediterranean competitions with a time of 11.10 seconds.
Her winning the medal came as a surprise in light of her absence during the last period due to an injury she sustained before the Olympic Games that were held in Tokyo.
However, she prepared for the Mediterranean Games by participating in several tournaments, including the Czech International Championship and the World Championship, and preparing in Serbia.
Also during the Mediterranean Games, Ziyad al-Sisi won the gold medal in the saber competition after defeating the Italian champion 8/15.
Athelte and ambassador
Egypt's champion in sprinting, Bassant Hemida, who won two golds in the 2022 Mediterranean Games, was appointed as an ambassador for the UN international initiative in Egypt "Shabab Balad" (Country's Youth) back in 2022.
"Shabab Balad" is a multilateral platform that aims to unite efforts and direct investments for the benefit of young people in Egypt and shift them from learning to earning and making a positive impact in society.
Through her ambassador role, Hemida will support "Shabab Balad", highlighting the importance of educating and training youth, providing them with skills and linking them to employment opportunities, as well as instilling the concept of entrepreneurship in them.