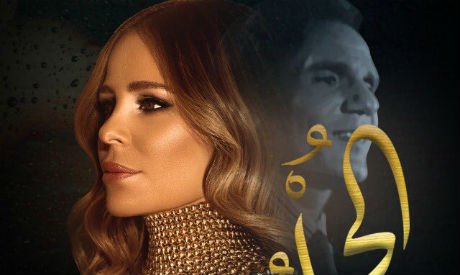 Late distinguished singer Abdel-Hakim Hafez will be back onstage performing alongside famed Lebanese singer Carole Samaha at Manara Hall in New Cairo on Friday, April 19 in the first hologram concert ever to be held in Egypt.
"I'm pleased to hold this novel, unique concert in Egypt where audience members will witness a new theatrical experience featuring the legendary Abdel Halim Hafez," said the Lebanese star.
Titled "Helm" (Dream), the hologram concert is the first of its kind in the world to present the iconic Egyptian singer.
Hologram concerts are facilitated by virtual technology that constructs three-dimensional images from the diffraction of light into an image, making for a lifelike structure.
This concert is the first in Egypt for Samaha since her newest booming release "Motalaka" (Divorced).
The organizers have not yet revealed the songs to be performed in the concert. They referred to a significant surprise that will be unveiled.
Mohamed Shabana, Hafez's nephew, allegedly said that the organizing company didn't obtain approval from Hafez's family regarding the concert. The company stated in response that the concert is a collaboration with Mazzika Company, which owns the rights to the singer's songs.
George Kalta will conduct the concert's live orchestra of almost 45 musicians, Masrawy reported. Additionally, Kalta revealed to Masrawy that approximately 17 songs will be performed. He also added that there will be a surprise song by Hafez.
Samaha was recently granted the Murx D'or prize for best Lebanese Singer and Show Star in 2018.