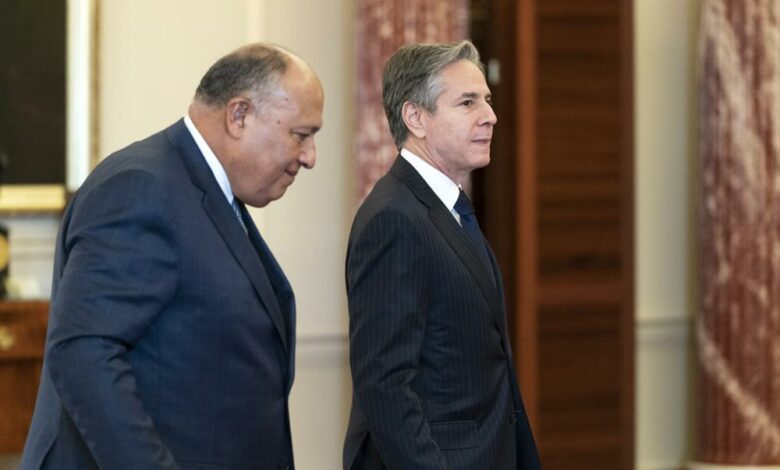 Foreign Minister Sameh Shoukry welcomed the outcomes of the strategic dialogue between Egypt and the US in sessions held in the American capital Washington.
According to a statement on Tuesday, Shoukry's speech at the closing session of the strategic dialogue session addressed immense potential in developing relations between the two countries.
He stressed the need to work on implementing what was agreed on during the working sessions.
The opening session of the strategic dialogue between Egypt and the US was held on Monday evening, headed by the foreign ministers of the two countries, Shoukry and Antony Blinken, and attended by representatives from the ministries of Defense, Trade and Industry, and Higher Education, and the General Investment Authority.
Shoukry stressed in his opening speech the uniqueness of relations between Egypt and the US at all levels.
Shoukry also expressed the importance of the existing strategic partnership with the US, and the role that cooperation frameworks have played in order to enhance the Egyptian state's ability to confront challenges, including combating terrorism and extremist ideology, and in supporting the state's tireless efforts to achieve development.
He also referred to Egypt's leading role as a pillar of stability in the region, and the importance of the existing coordination with the US to achieve regional security and stability.
Shoukry reviewed the efforts of the Egyptian government to provide the foundations for a decent life for Egyptian citizens, and to promote and respect civil, political, economic and social rights, referring in this regard to the issuance of the strategy of the National Committee for Human Rights, and ending the state of emergency in Egypt.
Both nations must continue working to strengthen bilateral cooperation in areas such as trade, energy, research and development, technology, higher education, culture and health care, Spokesperson for the Foreign Ministry Ahmed Hafez said.
Hafez added strategic dialogue sessions are scheduled to include discussions on a number of areas of cooperation and mutual interest, including political, economic, judicial, consular, human rights, education and culture, issues, as well as exchanging visions on regional and international issues.
With Egypt's human rights record posing a significant irritant that has resulted in the withholding of some US military aid and flashpoint situations in Egyptian neighbors Ethiopia and Sudan, Secretary of State Antony Blinken and Egyptian Foreign Minister Sameh Shoukry opened two days of strategic talks in Washington, according to AP.