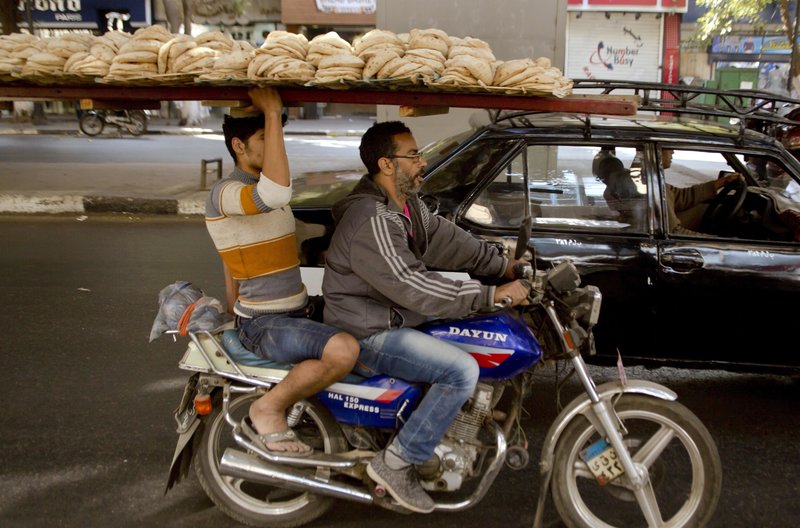 Egypt's Minister of Planning and Economic Development Hala al-Saeed said Egypt's Gross Domestic Product (GDP) had achieved growth of 5.6 percent during the first half of the 2019/2020 fiscal year, during a ministerial meeting Wednesday discussing economic and social issues.
During the meeting, which was presided over by Prime Minister Mostafa Madbouly, the Minister said that the International Monetary Fund (IMF) reduced its forecast for the global growth rate for 2020 for the third time, down to 3.3 percent in January 2020, compared to an earlier 3.6 percent in April 2019.
A number of experts are expecting a decrease in the global growth rate by 0.3 percent in 2020, in large part because of fears over the coronavirus epidemic.
Meanwhile, Egypt's GDP grew 5.6 percent, with Saeed attributing the figure to ongoing growth in the country's oil refining, telecommunications, construction and building, and tourism sectors.
Saeed said that the wholesale and retail trade sector ranked first with a contribution of 14.7 percent to the GDP, followed by the industrial sector with a contribution of 12.6 percent, while the agriculture, forestry and fishing sectors contributed 12 percent.
Investment ranked first among sources of growth, Saeed noted, with household spending having been the main driver of growth during previous years. However, its importance started to decline in 2017.
Saeed added that public investments reached LE2017 billion, increasing by five percent, which include LE64 billion in government investments.
Agriculture, industry, wholesale and retail trade, construction, transportation and storage accounted for 70 percent of employment, with workers in the wholesale and trade sectors increasing by 358,000 and in the industry sector by 426,000.
Annual inflation rates declined to 6.8 percent in January 2020, while monthly rates declined to 0.8 percent, Saeed said, pointing out that the food and beverage sector reduced inflation rates by 2.1 percent in January 2020, compared to December 2019.
Saeed said that the value of foreign exchange sources — exports and foreign investments which inject foreign currencies into the Egyptian market — amounted to $US 21.9 billion during the first quarter of the 2019/2020 fiscal year, with export earnings representing the largest share of foreign currency at 32 percent, followed by remittances at 31 percent.
The value of imports, meanwhile, decreased by 4.2 percent, from $US 16.6 billion during the first quarter of 2018/2019 fiscal year to $US 15.9 billion during the first quarter of 2019/2020 fiscal year.
The trade balance improved, however, after the deficit decreased from $US 9.8 billion during the first quarter of 2018/2019 fiscal year to $US 8.8 billion during the first quarter of 2019/2020.
On Sunday, Egypt's Finance Ministry said that it would open up the new draft of the government's 2020/2021 budget to discussion through a "social dialogue" initiative, and provided more details about the state's targets for economic growth over the course of the coming year.
Although no further details were provided on the Ministry's plans for public dialogue concerning the Draft State General Budget, during a meeting with members of Egypt's General Union of Chambers of Commerce, Finance Minister Mohamed Ma'it said that the draft aims to support comprehensive growth in the country.
He added that the 2020/2021 state budget focused on investments and exports in an effort to create job opportunities and bolster public services.
A decline in the dollar this December put the exchange rate below the LE16 mark for the first time in three years.
Former vice president of the BLOM Egypt Bank Tarik Metwally argued that the decline in the price of the dollar against the Egyptian point would continue in light of efforts to improve the deficit in trade balance, the increase in foreign exchange earnings from tourism, foreign investment in treasury bills, and remittances of Egyptians abroad.
In an attempt to revive its faltering economy since 2011, Egypt obtained an IMF loan in 2016 in exchange for implementing a rigorous reform program, beginning with floating the Egyptian pound. The tough economic reform program also included measures to loosen capital controls, end energy subsidies, reform public enterprises and overhaul monetary policy, and initially caused inflation to spike to 33 percent.
In November 2019, however, inflation in the country reached its lowest level in years. Meanwhile, the tourism industry, weakened by years of political instability and flight bans following the 2015 bombing of a Russian airliner over Egypt's Sinai, is also on its way to recovery.
However, activity in Egypt's non-oil private sector has continued to shrink as sales and export orders fall, with the IHS Markit Egypt Purchasing Managers' Index (PMI) for the non-oil private sector sliding to 46.0 in January, compared to 48.2 recorded in December and far below the 50.0 threshold that separates growth from contraction, according to Reuters.
Last week, the IMF, having branded the 2016 program a success, recommended that Egypt implement a new package of reforms geared towards supporting and developing the country's private sector.
Edited translation from Al-Masry Al-Youm