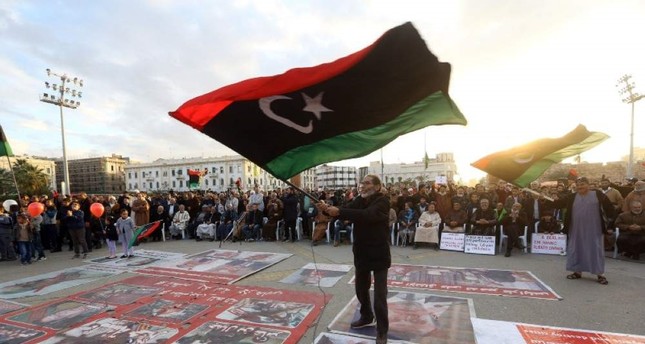 Egypt's Minister of Foreign Affairs Sameh Shoukry announced Wednesday that the Egyptian government supports a political solution for the Libyan crisis through the "Cairo Declaration".
During the UN Security Council meeting, Shoukry said that that to achieve stability in Libya it is vital to form a consensual government, dismantle all militias, unify the army and fairly distribute the GDP among the Libyan people.
He also warned that regional powers are intervening in Libya, threatening the stability of the Middle East and Mediterranean. Militias in Libya are seeking to carry out their agendas at the expense of the Libyan people.
Shoukry added that the Islamic State organization has spread in several Libyan cities and slaughtered 21 Egyptians.
He urged international powers to confront terrorist organizations in Libya.
Egyptian President Abdel Fattah al-Sisi in June launched a new plan to resolve the Libyan crisis dubbed the "Cairo Declaration".
This "Cairo Declaration" is a message to the world, Sisi said, and expresses a firm desire to enforce the Libyan people's wish goals of stability and development, to preserve the country's sovereignty and to put its interests first and foremost.
The announcement came during a press conference at the Ettehadiya Presidential Palace, in the presence of Libyan House of Representatives speaker Aguila Saleh, who arrived Friday morning, and the Commander-in-Chief of the Libyan National Army (LNA) Khalifa Haftar, in Cairo since Wednesday evening.
Sisi's plan will respect all international efforts to resolve the Libyan crisis thus far and includes a 48-hour ceasefire throughout Libyan territories, dismantling militias and handing their weapons over to the LNA, expelling foreign mercenaries out of the country, and resuming the 5+5 Libyan Joint Military Commission under the auspices of the UN.
The declaration also demands fair representation from all three of Libya's regions within its administration of governance for the first time in the country's history, holding fair elections without the interference of any militia, and launching a constitutional declaration regulating the country's political process.
Egypt looks forward to cooperation from all nations in supporting this step towards Libya's strong return to the international community, Sisi said.
This declaration is the result of sincere efforts throughout the past few years to heal the rift in Libya, he said, and will be important to ending the violence in Libya.