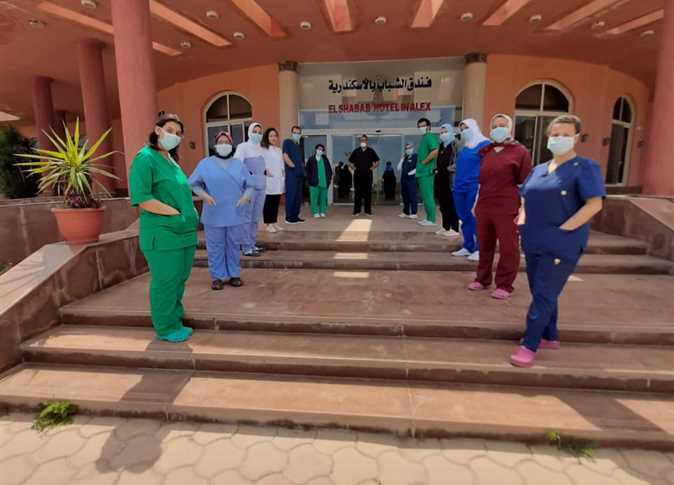 Egypt's Ministry of Health on Monday vacated another quarantine hospital in Alexandria's Abu Qir after the number of coronavirus cases being sent there dropped to zero, the Undersecretary of the Ministry of Health in Alexandria Khalid Abdel Ghany announced.
The hospital has 200 rooms ready for emergency cases, and is prepared to accept more suspected coronavirus patients if infections begin to surge again.
Abdel Ghany stated that the ministry has allocated 11 hospitals, including the Central Ajmi Hospital, to receive suspected coronavirus cases for isolation.
And the Alexandria Youth City will be utilized to receive cases with minor symptoms, those in recovery, and people who made contact with infected cases.
In July 11, a temporary field hospital established at the dorms of Alexandria University was dismantled due to a lack of patients, said the General Director of the Abu Qir General Hospital in Alexandria Ahmed Ibrahim.

Ibrahim added that 30 cases at the university have now been transferred to a quarantine hospital in Abu Qir, east of Alexandria.
The Health Ministry handed the dorms back to Alexandria University and returned all medical equipment to hospitals.
The Deputy head of the Scientific Committee to Combat Coronavirus at the Health Ministry Gehan al-Assal on Thursday said that the number of critical coronavirus cases in Egypt has decreased, and that most current cases are minor to moderate, requiring only home isolation treatment protocols.
Health directorates across the Egyptian governorates on Thursday announced a significant decrease in the number of people infected with coronavirus, and large numbers recovered in isolation hospitals.
Edited translation from Al-Masry Al-Youm