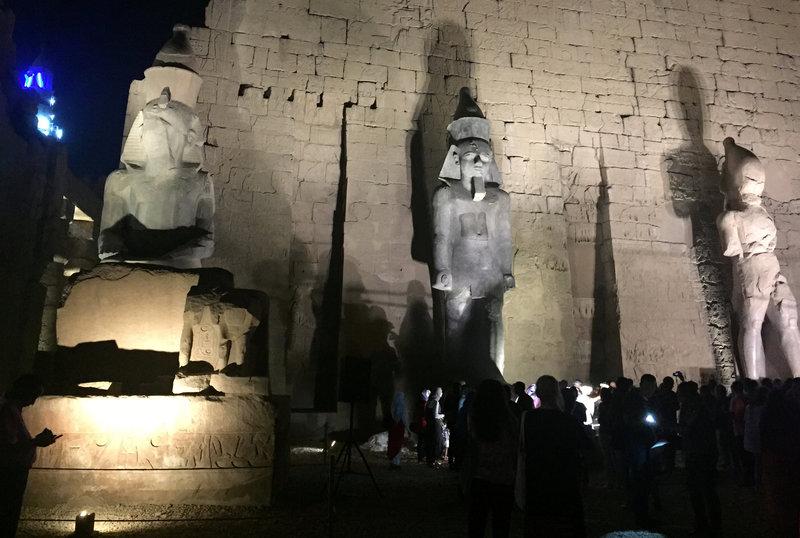 Marking World Heritage Day, Egypt's Ministry of Antiquities unveiled a restored statue of ancient Egyptian King Rameses II in front of Luxor Temple in southern Luxor on Thursday April 18.
The long-awaited unveiling came among other activities held by the Egyptian Minister of Activities promoting the international day with monuments and sites. This celebration was established by UNESCO in 1983.
The unveiling was witnessed by officials and prominent characters in varied sectors including Egyptian Prime Minister Mostafa Madbouly, Antiquities Minister Khaled al-Anany, Tourism Minister Rania al-Mashat, Culture Minister Inas Abdel-Dayem and Luxor Governor Mostafa Alham among other parliament members and celebrities.
According to what head of Egypt's Supreme Council of Antiquities Mostafa Waziri said on the sidelines of the ceremony, the pink granite statue is 12 meters tall and weights 60 tons. Before undergoing the restoration process, it was broken in 14 pieces.
"We now send a message to the world that we have the pylon of Luxor Temple with its six statues just as it was in ancient times," he commented.
He added that the statue, which shows the standing king, was lifted manually. It was fully re-formed by Egyptians over the course of three whole years.
The unveiled statue is the last of King Ramses II among six statues. The ministry of Antiquities has restored two other statues depicting King Ramses II.
Ramses II, the third king of the 19th Dynasty, ruled from 1292 until 13 BCE, recording the second longest reign in Egypt's ancient history. His era is known for flourishing reforms–especially building plans–that included many colossal statues located across Egypt, according to Britannica.
Waziri declared that the fragmented statue was unearthed during excavation work by an Egyptian archeological mission led by Mohamed Abdel Kader that took place in the temple between 1958 and 1960.
He noted that that mission succeeded in excavating more fragments that belong to various other shattered statues.
It is believed that these statues were damaged by an earthquake in an ancient era.
Waziri said that these fragments have been under restoration since 2017.