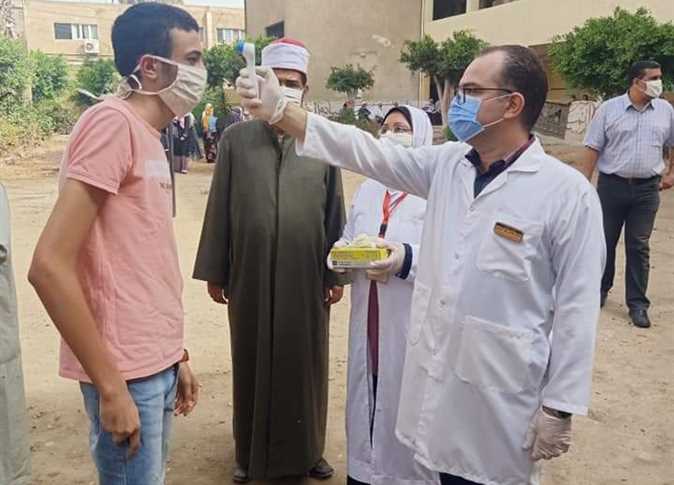 Factories belonging to Egypt's Ministry of Military Production have manufactured 1,298 disinfection cabins, which will be placed at the entrances of buildings where the country's high school students are taking their final exams (known as the thanaweya amma), Youm7 reported.
The ministry reportedly turned out the cabins in just 15 days' time.
The step comes within the framework of the Ministry of Military Production's plan to utilize the surplus production capacities of its subsidiary companies, joining other state agencies' efforts in combatting the novel coronavirus.
The Education Ministry distributed the cabins to eleven governorates, including Cairo, Giza, Qalyubiya, Fayoum, Beni Suef, Alexandria, Matrouh, Gharbiya, Beheira, Kafr al-Sheikh and Monufiya.
The cabin design allows for two people to enter at one time, in order to prevent congestion when students pass through.

Technicians from the Military Production Ministry will be present on site to deal immediately with any potential malfunctions.
Precautionary measures to protect high school students from the coronavirus during the Thanaweya Amma exams collapsed on the very first day, as thousands of students flocked to examination committees at schools across the country on Sunday.
Photos on social media shared early in the morning showed dozens of students failing to  follow social distancing measures, standing only a few centimeters apart.
Around 653,389 students are set to attend this year's exams.
Egypt on Saturday confirmed 1,547 new coronavirus cases, bringing the country's number of confirmed total cases so far to 53,758. The total number of COVID-19 deaths has now reached 2,106 nationwide, after announcing 89 deaths. The total number of fully-recovered cases rose to 14,327, all of whom have been discharged from isolation hospitals. Around 399 left quarantine on Saturday.