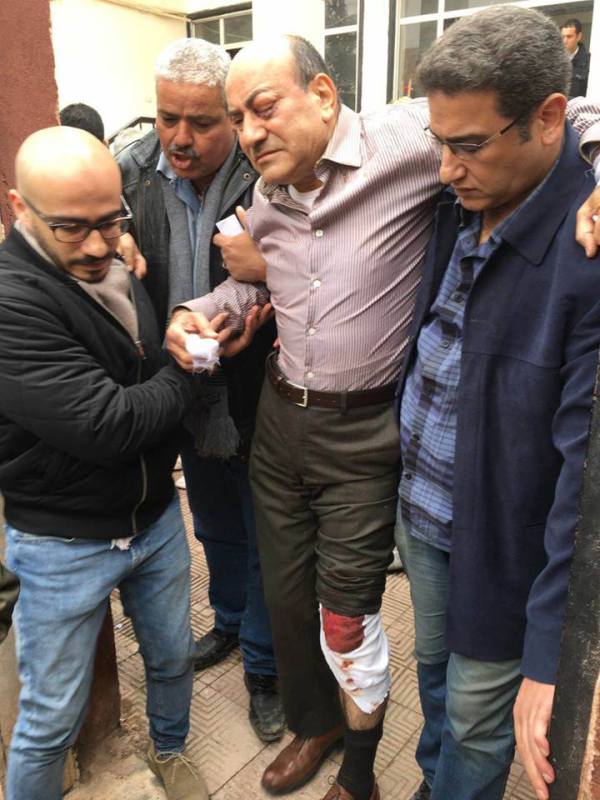 Egypt's Military Prosecution approved a request that Hisham Geneina, former top auditor and a member of former presidential hopeful Sami Anan's campaign team, be referred to a prison hospital to receive proper medical treatment.
Ali Taha, Geneina's lawyer, said on Friday that his client was undergoing treatment before his arrest in order to undergo a medical operation in the skull and eye after he was assaulted last month. During the attack he suffered a fracture of the left eye and needs four plates to be installed in the skull bone to repair the eye socket floor.
Egypt's military prosecution ordered on Wednesday that Geneina be detained for 15 days pending investigations over statements he made about allegedly possessing sensitive and top-secret documents incriminating senior military figures.
Geneina was arrested on Tuesday after he told HuffPost Arabia that he has access to top-secret documents which allegedly prove that army leaders played a role in causing social unrest following the 2011 uprising which saw the ousting of former President Hosni Mubarak.
Geneina threatened to release these documents if Anan, who is currently under arrest, is subject to a threat against his life.
Geneina was reportedly attacked and beaten by unidentified men in New Cairo, causing several injuries to his face and legs. The attack on Genena came after he was appointed by Anan as his vice president running mate.
The military prosecution now holds both Geneina and Anan, while Anan's presidential campaign said it suspended all its activities.
Edited translation from Al-Masry Al-Youm