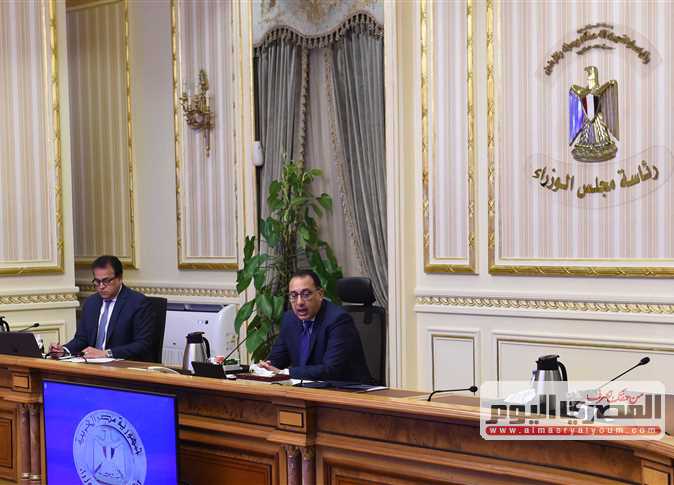 Egyptian Prime Minister Mostafa Madbouly and Chairperson of the Doctors Syndicate Hussein Khairy held an urgent meeting Thursday morning to discuss doctors' demands regarding coronavirus prevention and care.

According to the syndicate's statement, the attendees reviewed developments in the coronavirus crisis and the problems facing doctors, as well as methods for protecting medical professionals from infection.
Khairy detailed the most important issues doctors experience in dealing with patients, stressing the need to address shortcomings in protection for doctors, shortages in medical supplies, the unpreparedness of hospitals, and the lack of proper training on how to deal with patients in quarantine hospitals.
Khairy demanded that PCR testing be conducted on medical staff dealing with coronavirus cases. He also demanded that quarantine facilities be allocated for infected medical professionals nationwide, and that families of doctors and nurses who fall victim to the virus be financially compensated in the same way as police officers and armed forces servicemen and women who die in the line of duty.

In response, Madbouly ordered the immediate expansion of PCR testing for medical staff, and allocated areas in each hospital to isolate infected doctors.
Regarding protective supplies for medical teams, Madbouly said supplies were available at hospitals, but that a warehouse issue was behind the crisis in their disbursement. He stressed that the matter will be addressed and that supplies will be made available to doctors.
Madbouly also emphasized his willingness to personally intervene to resolve every complaint sent to him by the Doctors Syndicate and to resolve any crisis immediately.
Madbouly said that victims among medical staff are considered martyrs and are therefore compensated using the risk fund allocated to healthcare professionals, as announced by President Abdel Fattah al-Sisi.
As for the crisis of assigning doctors to quarantine hospitals, the matter is still under negotiation with the concerned authorities, the syndicate added.
The Egyptian Doctors Syndicate on Wednesday announced the death of three physicians, two of whom were infected with coronavirus.
The third doctor died of severe respiratory failure.
Health Minister Hala Zayed revealed on Monday, May 25 that 291 medical professionals, including 69 physicians, have been infected with coronavirus, while 11 physicians have died in Egypt's fever, chest and isolation hospitals.
Egypt's Doctors Syndicate has placed the blame for the rising number of physician deaths to the coronavirus outbreak squarely on the Health Ministry, citing its negligence and inaction in a statement issued on Sunday, May 24.
It accused the Health Ministry of failing to perform early testing to diagnose virus cases among medical staff, and failing to carry out tests on those in contact with positive cases.
The ministry, it said, also failed to provide quick treatment for infected personnel, and neglected to provide them with appropriate supplies for personal protection.
It demanded that the ministry remedy these failings and provide a better treatment plan for medical staff, alongside granting them better forms of personal protection and supplies.
Meanwhile, doctors from Al-Munira General Hospital on Monday published on Facebook a mass resignation following the death of their young colleague, Walid Yahia Abdel-Halim, from coronavirus.
The resignation stated that the ministry was negligent in providing preventive supplies for medical staff, which led to an increase in the spread of infection among them. It added that the ministry assigned many doctors to deal with coronavirus cases — which are outside their area of expertise — without training or a clear protocol, which also raised infections among them.
The document also referred to threats made against doctors of arbitrary administrative procedures to be taken against them for objecting to the situation, as well as threats to their security.
In response, Zayed on May 26 announced that the ministry is opening an urgent investigation into Abdel-Halim's death.