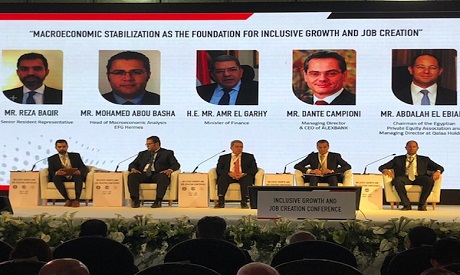 Minister of Finance Amr al-Garhi stated on Sunday that the Egyptian government is working on a medium-term plan to cut public debt levels from 107 percent of GDP in fiscal year 2016/2017 to 80 percent by 2020, after public debts level rose fivefold over the past five years from LE 800 million.
During the Inclusive Growth and Job Creation Conference, organized by the International Monetary Fund (IMF) in cooperation with the Central Bank of Egypt (CBE), al-Garhi clarified that the debt reduction plan aims first to reduce the overall deficit in the budget and achieve an initial surplus of 2 percent of GDP, in addition to an increase of the average per capita income.
He said that he expects Egypt to witness a significant rise in living standards during the next fiscal year.
"Improving living standards, creating more suitable job opportunities and reducing the unemployment rate, which is clearly declining, are among the top priorities of the government," the minister said.
He further explained that the unemployment rate has dropped from 13 percent to 11 percent this year, amid reform measures taken by the government.
He added that the government is working on implementing structural reform policies for the industrial sector and other economic ones, noting that a law concerning a simplified system for tax accounting for small projects is being drafted in an effort to boost this sector by 10 to 15 percent.
"At the moment, we cannot put pressure on the citizens, but we are working to channel part of the government subsidy to support social protection programmes and other investment projects," al-Garhi said.
In a press statement, he added that the success of the economic reform program has been achieved due to the support of the political leadership and its emphasis on the need to be honest and open with the society regarding the problems and challenges that the country faces.
He also stated that  Egypt is working to increase its share of world trade by expanding its exports, especially in non-oil products, noting that the total exports did not exceed 20 billion US dollars in 2015, adding that the the government supports Egypt's development of various industries, specifically food industries, in aims to expand the contribution of this sector to the country's GDP.
"We have faced many challenges and are still facing others, but Egypt has huge economic potential to develop the industrial, agricultural and tourism sectors, this is aside from the discovery of oil and gas fields, which we expect will create sustainability in growth rates during the upcoming decade," he said.