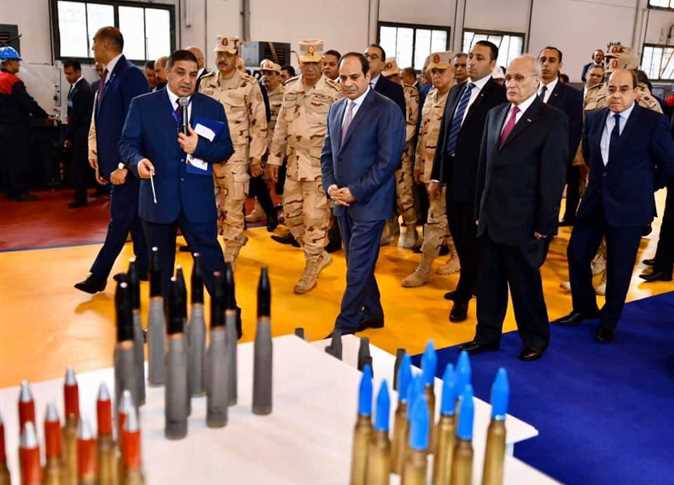 Egyptian President Abdel Fattah al-Sisi opened on Monday "military factory 300," which is affiliated with the Ministry of Military Production's Abu Zabaal Company for Specialized Industries.
Sisi also opened a factory affiliated with the Benha Electronics Company for manufacturing solar panels, as well as a factory under the Qaha Company for Chemical Industries set to produce batteries.
During his visit, Sisi inspected the new military loader 900 as well as the armored vehicle Sinai 200. The ministry manufactured all parts of the loader, excluding the engine and tires, which were produced by International Marathon United Technology (IMUT).
Michelle Knight, Chairperson of MUT Heavy equipment manufacturing company, designed the loader in cooperation with the ministry.
The ministry also said that its factories have manufactured electric cars, as well as ST-100 and ST-500 armored vehicles.
Egypt's Ministry of Military Production announced in late October 2019 that it would produce two models of affordable electric mini-cars (dubbed E-Motion cars) in collaboration with China's Foton Company – one with a capacity of four passengers and the other able to carry three.
The Ministry clarified, however, that these cars are not qualified to be driven on normal Egyptian streets and are allowed only in compounds, hotels and resorts.
The Ministry has also reportedly partnered with Foton to produce electric buses in Egypt, and in early December, Minister of Public Business Sector Hisham Tawfik held extensive talks with a delegation of the Chinese Dongfeng Motor Company regarding ongoing negotiations to begin producing electric cars at Nasr, Egypt's state-owned automobile company.
Dozens of military-owned companies operate in a wide range of sectors in Egypt, according to a 2018 report from Reuters. Some private companies or investors have complained about reported tax and other advantages granted to military-owned companies – such as the military's exemption from the Value Added Tax imposed as part of a tough economic reform program in 2016. However, Egypt's government argues that the military has been able to fill gaps in the market and has stressed that private companies operate on an even playing field, according to Reuters.
Activity in Egypt's non-oil private sector contracted for the fourth consecutive month in November 2019, falling to its lowest since September 2017, and has continued to shrink as sales and export orders fall. The IHS Markit Egypt Purchasing Managers' Index (PMI) for the non-oil private sector slid to 46.0 in January, compared to 48.2 recorded in December and far below the 50.0 threshold that separates growth from contraction, according to Reuters.
The International Monetary Fund, having branded the 2016 program a success, recently recommended that Egypt implement a new package of reforms geared towards supporting and developing the country's private sector.
Edited translation from Al-Masry Al-Youm