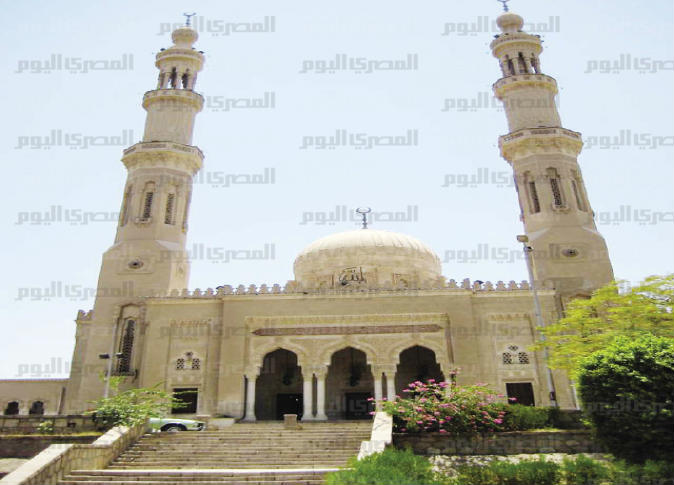 The El-Tabia Mosque in Aswan has a distinct architectural style and is one of the largest and oldest mosques in the city. It was called El-Tabia (The Fortress) because it was built at the top of a hill in the center of the city where Muhammad Ali Pasha had built a fortress overlooking the Nile.
The mosque, whose high minarets can be seen from anywhere in the city, can accommodate thousands of worshipers. It is also used to view the Ramadan crescent and has become a well-traveled tourist attraction. The mosque has also recently added outdoor lighting for its surrounding garden to be enjoyed at night.
Hassan Gaber, director of Islamic and Coptic artifacts in Aswan, said the mosque was opened in 1974. "Although it is a modern building, its Mamluk style, its huge dome and its inner decorations give the impression that it is an old structure," he said.
He said the mosque has four entrances that lead to a large awning built on circular columns that are topped with pointed arches and hanging glass lanterns bearing inscriptions from the Quran in Kufic (calligraphy) characters.
"Inside the mosque you find yourself at a loss as to where to look from the many decorations that adorn the columns and the walls," he said. "The dome alone is carried by 24 columns."
The mihrab, which is the niche that indicates the qibla (the direction of Mecca), is made of marble mosaic. Next to it, there is a wooden minbar (pulpit) engraved with beautiful motifs and topped with a small wooden dome.
The minarets emulate those of the Mamluk era so as to reflect the greatness of Islamic architectural heritage.
Edited translation from Al-Masry Al-Youm