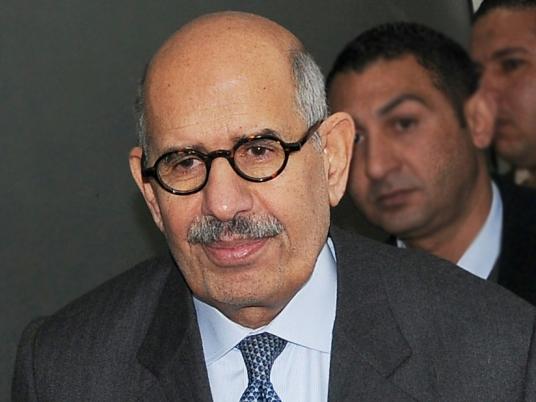 Constitution Party founder Mohamed ElBaradei held a closed meeting with the April 6 Youth Movement on Thursday.
The meeting was held at ElBaradei's home on the Cairo-Alexandria desert road from 12 pm to 2 pm.
ElBaradei reportedly met with the youth to discuss various political issues, including preparations for the second anniversary of the 25 January revolution and new methods to escalate peaceful protests against the recently adopted Constitution. They also discussed how to prepare for the upcoming parliamentary election, such as having the National Salvation Front run on a single list.
April 6 spokesperson Mahmoud Afify said he was at the meeting, as well as group members Ahmed Maher, Engy Hamdy, Ahmed al-Nadeem, Mohamed Samy, Mahmoud Basha and Mohamed Kamal.
The meeting is the first in a planned series of discussions between different opposition figures, including Hamdeen Sabbahi, Abdel Moneim Abouel Fotouh and Egypt's Future founder Amr Khaled.
"The next 25 January will be a day of rage all over Egypt," Afify said, although he added that the protests would be peaceful.
The National Salvation Front on Wednesday called on people to mobilize in squares across Egypt to protest against the new Constitution.
Edited translation from Al-Masry Al-Youm