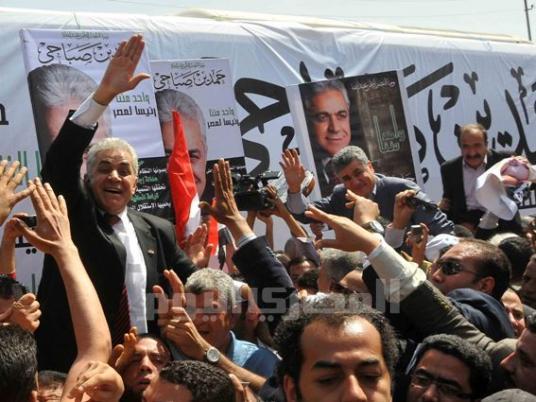 The Presidential Elections Commission closed the door Tuesday for presidential hopefuls to pull out of the race, as none of them submitted a request to withdraw.
That makes the list of 13 candidates announced by the commission on 26 April final.
Independent candidates include Nasserist Hamdeen Sabbahi, former Arab League chief Amr Moussa, former Prime Minister Ahmed Shafiq, Islamist Mohamed Selim al-Awa, ex-Muslim Brotherhood member Abdel Moneim Abouel Fotouh, leftist lawyer Khaled Ali and former police officer and security official Mahmoud Hossam.
Party candidates are Abul Ezz al-Hariry of the Popular Socialist Alliance, Mohamed Fawzy Eissa of the Generation Party, Hossam Khairallah of the Democratic Peace Party, Hesham al-Bastawisi of the leftist Tagammu Party, Abdallah al-Ashal of the Asala Party, and Mohamed Morsy of the Brotherhood's Freedom and Justice Party.
Al-Masry Al-Youm reports that negotiations to choose a single "revolutionary presidential candidate" that leftist and revolutionary forces could unite behind have failed.
Negotiations between Bastawisi, Hariry and Sabbahi, as well as Abouel Fotouh and Ali, began in April in an effort to reach an agreement to consolidate their campaigns and supporters to compete against Mubarak regime figures, such as Shafiq and Moussa.
Edited translation from MENA