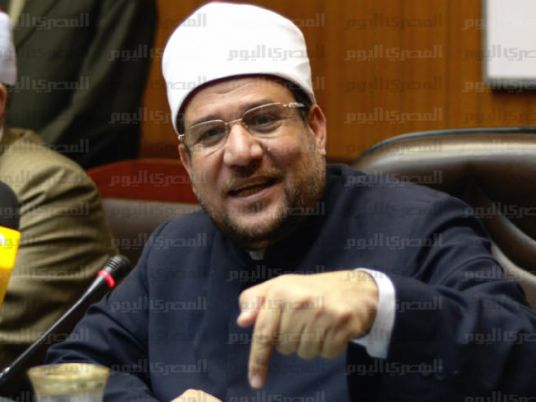 Egypt's endowments minister has called upon state institutions to purge themselves of Muslim Brotherhood sympathizers, stressing that the ministry has managed to filter its employees and mosques under its management to that end.
In an interview with Al-Masry Al-Youm, Mohamed Mokhtar Gomaa said he has information that there are schools run by the Brotherhood that teach "special religious syllabi".
"State institutions have to purge themselves of the Brotherhood and advocates of extremist thought," the minister said.
The Endowments Ministry has banned mosque preachers from delivering sermons except for those who have a license as part of a broader government strategy to crackdown on Muslim Brotherhood backers since the ouster of former President and group leader Mohamed Morsi in 2013.
When asked about the presidency's call to "modernize religious discourse", Gomaa said that achieving that goal will require at least 10 years.
"President Sisi's call has come just in time…religious discourse is the biggest conundrum in the Arab and Islamic worlds," Gomaa said.
He noted that his ministry is currently in the first stage towards the modernization of religious discourse, which has seen mosques banning preachers from outside the ministry and publishing houses being purged of literature by authors supportive of the Muslim Brotherhood and Islamist extremism.
Edited translation from Al-Masry Al-Youm