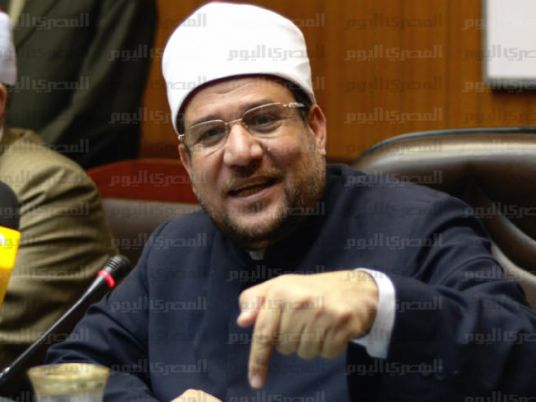 The Religious Endowments Ministry distributed a leaflet to mosques on Monday that instructs imams to prohibit participation in protests on January 25 during Friday sermons.
The leaflet quoted a fatwa issued by Dar al-Iftaa that says protesting on that day violates Islam and is forbidden in accordance with Islamic teachings.
The leaflet described the call for protests on January 25 as a "full crime, and poisoned ominous calls that aim at sabotage, murder and destruction in the country". The fatwa also accused calls for protests as a desire to "get Egyptians implicated in violence and terrorism to serve the enemies of the homeland".
The leaflet said imams should ask people to learn a lesson from other countries in the region that have been destroyed by chaos, and to appreciate the blessings of security and stability. The leaflet also encouraged imams to call on people to unite and build the country rather than destroy it.
Maintaining the security of the homeland and defending it is a sacred duty and harming public property is prohibited by Islam, the leaflet stated.
Informed sources told Al-Masry Al-Youm that the Endowments Mohamed Minister Mokhtar Gomaa has instructed Endowments departments nationwide to send the names of imams who will not abide by the instructions stated in the leaflet so that they may be deprived of a LE 10,000 bonus disbursed to imams at the end of January and to include them in the ministry's blacklisted employees.
Edited translation from Al-Masry Al-Youm