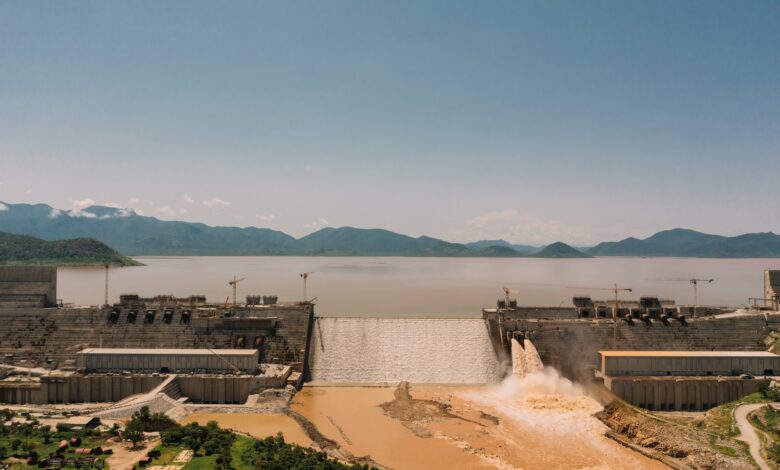 A Professor of Geology and Water Resources at the Cairo University Abbas Sharaky on Saturday commented on Ethiopia's announcement claiming it had finalized 90 percent of the total construction process in the Grand Ethiopian Renaissance Dam, saying the figure was exaggerated.
"The construction rate of the GERD is about 78 percent (85 percent concrete, 70 percent electricity)," Sharaky said in a Facebook post.
Addis Ababa had announced in 2021 that the completion rate of the dam reached 80 percent, and in 2019 announced that the rate reached 70 percent, and therefore it is expected that Ethiopia will finish the construction completely in 2025, he explained.
He noted that Ethiopia's announcement of the percentages of building the dam is often directed at the Ethiopian interior and are exaggerated.
The remaining concrete is about 1.6 million cubic meters of the dam's total, he said, according to the executing company We Build.
"As for electricity, it is late, as only two turbines have been installed out of a total of 13 turbines, and the work on installing the turbines requires a lot of time and precise technical work," Sharaky said.
He explained that the installation of the two turbines took about two years, and they did not work together, as the completion of the second faltered at the opening of the first on February 20, 2022, saying that the second was inaugurated 6 months after the first turbine.
Stagnant talks
The Ethiopian government announced on August 11, 2022, that it has completed the third GERD filling unilaterally.
It announced the operation of the second turbine in GERD to generate electric power, which comes in light of the tension between Addis Ababa and Egypt, Sudan due to what the two countries consider a negative impact of the dam on their water shares of the Nile River.
Egypt and Sudan say they want a legally binding agreement on operating the dam, while Ethiopia says any pact should be advisory.
Both countries consider the dam a threat to their vital water supplies, while Ethiopia considers it essential for development and doubling its electricity production.
The downstream nations fear possible blows to water facilities, agricultural land, and overall availability of Nile water.
Negotiations over the dam between Egypt, Ethiopia, and Sudan have stalled for years, with the three parties ultimately failing to reach any agreements.
The disputed dam is the largest hydroelectric project in Africa, with a cost of more than four billion dollars.