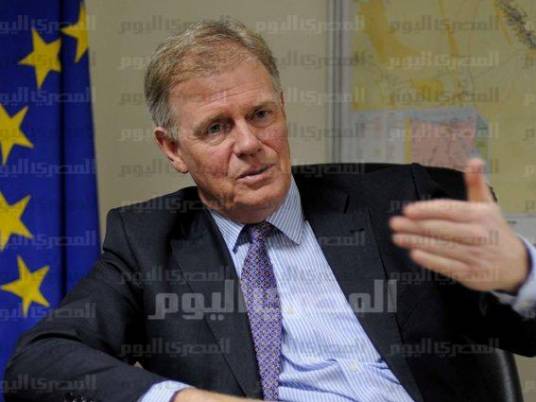 EU Ambassador to Egypt James Moran said that the European Union continues to provide aid to Egypt, without suspension.
"There will be no suspension of aid and aid programs will be announced in the future. We will not stop any assistance programs, but we would increase them," he explained.
Moran pointed out that the EU aid projects in Egypt totals €1 billion, over many projects including health, education and energy as well as other areas.
Moran told Al-Masry Al-Youm that the European Union has communicated with both the opposition and the government in Egypt to emphasize on the need for everyone's participation in the political process to achieve stability and democracy.
Egypt has a great experience, he noted, and it is up to Egyptians to vote for whoever they chose, it's their business, but whoevers runs for presidency shall appreciate the values of civil democracy.
Moran denied EU describing the 30 June protests that ousted Mohamed Morsy as a "coup."
Moran stressed that the EU has stated that 30 June protests are a popular uprising, in many occasions and statements issued by the union. The EU has communicated with the interim authorities since the very beginning, and understand that the ouster of the former president was out of popular will.
Europe hopes for the Muslim Brotherhood to be involved in the political process in the future, and to also participate in the election, since participation is the best way for the country to apply the democratic process in order to achieve stability and security.
Edited translation from Al-Masry Al-Youm
*Correction: This article previously stated that Ambassador Moran described 30 June as a
"
revolution.
"
It has been corrected to
"
uprising.
"
The article also stated that Moran said it was up to Egyptians to choose if they wanted military rule. It has been corrected to
"
it is up to Egyptian to vote for whoever they chose.
"