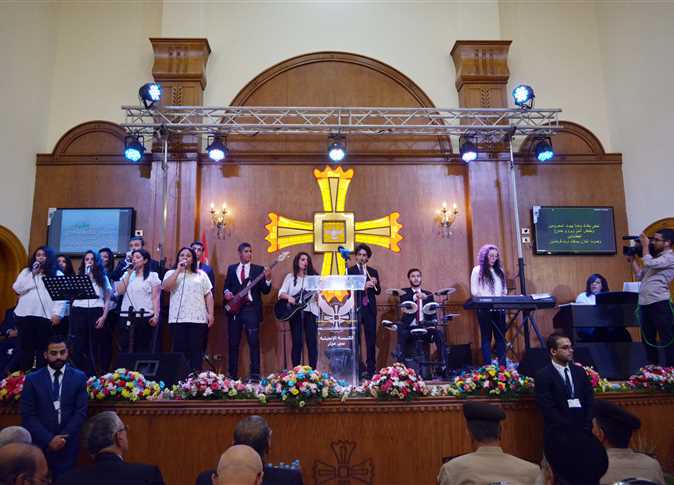 Egypt's Evangelical community celebrated on Sunday the restoration of Bani Mazar church, the city's last last to be repaired church that was burnt in the aftermath of the dispersals of sit-ins staged at Rabaa al-Adaweya and al-Nahda squares.
Several churches across the country were attacked after security forces dispersed supporters of the Muslim Brotherhood president Mohamed Morsi on August 14, 2013.
Morsi was removed from office by the military nearly one year into his first term in office, after large numbers of Egyptians took to the streets demanding an end to his rule.
Media reports say that between 64 and 72 churches were destroyed or damaged after August 2013, with President Abdel Fattah al-Sisi tasking the Armed Forces Engineering Authority with the rebuilding efforts.
Several figures attended the celebration in Minya governorate on Saturday night including the governor Essam Bedawy, and the head of the Evangelical Church Andrea Zaki.
A statement for the governor said that the church was rebuilt in a modern style while retaining the spiritual style of the church. The cost of construction exceeded LE7 million and is located on an area of 240 meters. It took about three years to rebuild by the armed forces.
Zaki extended his thanks to Sisi for the great efforts of the armed forces in rebuilding and restoring Bani Mazar church, which had been subjected to a huge fire. "I came here when the church was burnt, but now I can't believe the magnificent restoration," he said.
"I was in a meeting with the president two weeks after (the accident), and he said 'if God gave man the freedom to worship him or not to worship him, then is it possible for any human being to deprive a man from this freedom?' and this contains a deep meaning about his faith in freedom, and I think that we reopen this church as one meaning of freedoms in Egypt," Zaki said.
The head of the evangelical community stressed that the church is part of the Egyptian identity as the mosque is, and "we must belong to the church as Copts because the church is part of the Egyptian identity."
In related news, Coptic Orthodox Church sources said that the Church of St. Moses the Black in Minya city is the last church to be restored as part of the project to restore churches that were destroyed in August 2013.