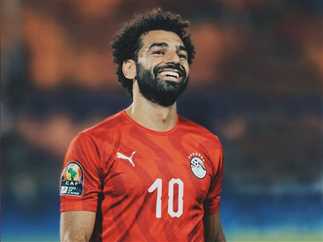 British authorities have arrested a football fan who wrote a racist tweet against Liverpool star Mohamed Salah.
The 32-year-old, a fan of Liverpool's rival Everton, was questioned on suspicion of a racial crime and obstructing an officer while on duty, Sky Sports Arabia reported.
The suspect posted a tweet on his Twitter account that contained an offensive cartoon of Salah, which was later deleted.
"Merseyside Police is aware of an offensive tweet posted in relation to a Liverpool footballer and shared by others, and we will be investigating the matter," Merseyside Police spokesman said.
"Hate crimes in any guise will not be tolerated, and those who use the internet to target others and who commit criminal offenses such as hate crimes in doing so need to understand that they are not beyond the law," he added.
Everton club condemned the incident, saying it condemns "in the strongest terms any kind of racism."
"We have shared the material with the appropriate authorities and are looking into the matter further to understand if the Twitter user in question is known to the club in any way," Everton spokesman said.
West Ham United fans also chanted racist insults against Salah during a West Ham United-Liverpool match in the 25th round of the Premier League on February, targeting his religion.
Arsenal striker Danny Welbeck expressed solidarity with Salah, as did other players, including West Ham United striker Michail Antonio, who stated that the European Football Federation and the UK's Football Association should be held responsible for any racist incidents against the players at stadiums.
London police opened an investigation into the incident, and West Ham United issued an official statement condemning the incident.
In June, Stanford University's Immigration Policy Lab (IPL) released a study on soccer star Mohamed Salah's constructive social impacts at many levels during his stay with Liverpool.
The study mainly shows that since the Muslim Egyptian footballer arrived in Liverpool's Merseyside, the area has witnessed a noticeable decline in hate crimes of 18.9 percent.
The IPL conducted a survey of 8,060 Liverpool fans in addition to observing 15 million tweets and monitoring county-month hate crimes to gauge how Salah's presence in the UK has influenced Islamophobic behaviors and attitudes.
The compiled "Islamophobic behaviors" took various forms, including anti-Muslim tweets. The study indicated that Reds fans' rates of hatred-based tweets lessened from 7.2 percent to 3.4 percent since the arrival of the famed Egyptian.
Edited translation from Al-Masry Al-Youm