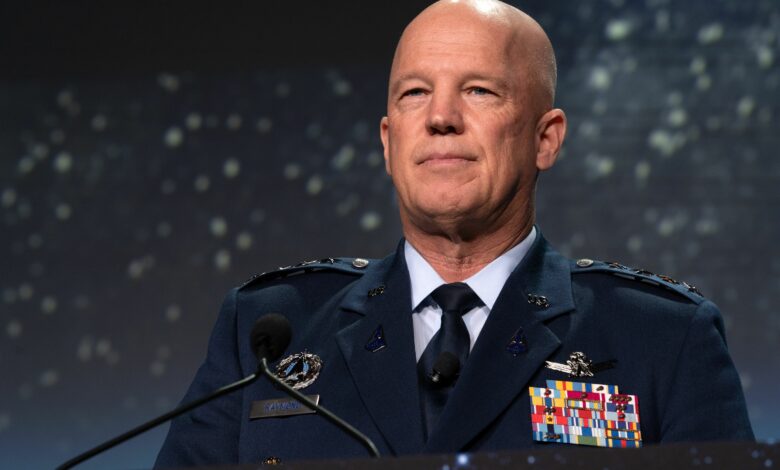 Following the establishment of the United States Space Force (USSF) in December 2019, General John Raymond was sworn in on January 14, 2020, to officially become the first Chief of Space Operations in a special ceremony in the Eisenhower Executive Office Building of the White House in Washington, DC.
Before the establishment of the Space Force, General John W. "Jay" Raymond was the most senior space officer in the US Air Force.
His years of service in the US Air Force spanned for nearly 37 years, during which he rose in various positions until he held the position of Commander, Air Force Space Command.
From August 2015 through October 2016, General Raymond then led the re-establishment of the US Space Command as the 11th Command in the US Department of Defense.
Al-Masry Al-Youm conducted an email interview with General Raymond, in Washington DC, where he revealed the real reasons behind the establishment of the US Space Force.
The need for the USSF has emerged in recent years to ensure that the international community enjoys safe access to space to serve research and scientific purposes to confront threats from Russia and China in space, he explained.
The commander of the US Space Force warned that the US possession of the space deterrent force would prevent future conflicts, stressing that cooperation and information exchange on space activities is the only way to ensure no outbreak of a space conflict resulting from a miscalculation or miscalculation.
He also explained that Egypt's hosting of the African Space Agency headquarters could provide a path for space cooperation and joint space activities with Cairo.
Al-Masry Al-Youm (AMAY): Gen. Raymond, you are the first Chief of Space Operations for the USSF, could you tell us more about the story behind the Space Force? And why the United States established USSF?
Gen. Raymond: For decades, space has been essential to modern life and to the US military's ability to provide a war-fighting advantage for our nation and its allies. Longstanding US policy has been to promote the safety, security, and sustainability of the space domain for the benefit of all with the intent of preventing it from becoming a domain of armed conflict.
However, other nations clearly have different motivations.
Nations such as China and Russia have taken note that America's space-based capabilities underpin all instruments of its national power and, in response, have developed capabilities aimed at denying or degrading our ability to use space.
The United States established the Space Force, as independent military service, in December 2019 to elevate space to a level equal to its importance to our nation's security and to ensure the interests of the nation and its allies were secure.
Since then, we have succeeded in building and integrating the Space Force within the national security apparatus and alongside our international partners to ensure the world continues to enjoy a safe, secure, and accessible space domain.
AMAY: What's the difference between Space Force and NASA? What is the Space Force's mission?
Gen. Raymond: The Space Force is a military service whose mission is to defend the US and allied interests in space. NASA is a civil agency focused on space exploration, research, and scientific discovery. However, while the Space Force and NASA have different missions, we partner closely in sharing research, training and technology development.
Additionally, in keeping with the decades-long practice of military services providing talent to the NASA astronaut corps, Space Force has two Guardians who currently serve as NASA astronauts.
AMAY: Why are members of the Space Force called "Guardians"?
Gen. Raymond: Guardians is a name long associated with space operations, tracing back to the original command motto of Air Force Space Command in 1983, "Guardians of the High Frontier." The name Guardian connects the proud heritage and values of military space professionals to their important mission of safeguarding the ultimate high ground.
 
AMAY: In 2002, Space Command was absorbed into US Strategic Command, what has changed now?
Gen. Raymond: Prior to the creation of the Space Force in December 2019 as a separate and distinct branch of the US armed forces, US Space Command was re-established in August 2019 as the 11th Unified Combatant Command responsible for protecting and defending the space domain and conducting global space operations.
The US Space Force and US Space Command are different organizations with different, but closely related, missions. US Space Force organizes, trains, and equips our forces and executes operations under the authority of US Space Command.
This is how the US military organizes its land, sea, and air forces too.
AMAY: How can the US Space Force promote world peace?
Gen. Raymond: Longstanding US policy has been to promote the safety, security and sustainability of the space domain for the benefit of all.
As space only continues to grow in its importance to national security and economic prosperity, I am convinced that if the US and our partners can deter conflict from beginning in, or extending into space, we can deter conflict in all other domains.
AMAY: How can the US Space Force help in the field of space exploration?
Gen. Raymond: All activities to promote the human understanding of the universe through science and exploration must be underpinned by a safe and secure space domain.
The Space Force provides the forces and capabilities necessary to ensure access to, and the long-term security, stability, and sustainability of, space.
AMAY: Do you in the United States Space Force have any [partnership agreements] with international partners? Any [partnership agreements] with any of Arab countries or from the Middle East?
Gen. Raymond: When the space domain was a benign environment, we did not need the robust partnerships we benefited from in the other domains.
Today, that is not the case.
The Space Force benefits from numerous partnerships with allies and like-minded space-faring nations, and is working to evolve those partnerships from one-way, data-sharing arrangements to cooperative operational and capability development partnerships.
We have partnered with Japan on hosted payloads; conducted Space Engagement Talks with Brazil; explored satellite communication possibilities with the Luxembourg Ministry of Defense; partnered with the Netherlands Ministry of Defense, Norwegian Ministry of Defense and the Norwegian Space Agency on a virtual space accelerator program that focuses on next-generation space technologies; and signed a shared space vision statement with the United Kingdom, to name a few.
Regarding cooperation with Middle East countries, currently, Space Force units support Space Situational Awareness data-sharing agreements with Israel and the United Arab Emirates Space Agency.
International partners in space are critical to our collective global security and prosperity.
AMAY: What is the role of the United States Space Force in counter-terrorism?
Gen. Raymond: There is nothing we do as a joint force that is not enabled or enhanced by space power. The US military is better connected, more informed, faster, more precise, and more lethal because of the space capabilities it brings to bear.
AMAY: Is the Space Force fully operational now?
Gen. Raymond: The law that established the Space Force directed the first new armed force in 73 years to be fully established within 18 months. The Department of the Air Force immediately began implementation of the organizational changes directed by the law, transferring thousands of military members into the new service, activating new Space Force commands and organizations, and establishing our headquarters at the Pentagon.
There are still a few organizational changes remaining to be implemented, but the core Space Force structure was fully established within that 18-month time frame. More importantly, these organizational changes had no impact on the conduct of ongoing space operations. Throughout these significant organizational changes, and in the midst of a global pandemic, our Guardians continued their support to Combatant Commands and Joint warfighters.
In that sense, the Space Force was fully operational from the moment it was established.
AMAY: Some experts believe that the United States' concern about China and Russia's ability to neutralize key US satellites is the reason behind the establishment of the US Space Force. How do you respond?
Gen. Raymond: There were two key factors that led to the creation of the Space Force.
First, our nation recognized space as a vital US national interest. Additionally, the increasing ability of nations like China and Russia to hold our space assets at risk by developing and fielding an array of counter-space weapons made clear the need for a military service dedicated to organizing, training, and equipping forces for a contested space domain.
AMAY: Are there any risks of an attack on US satellites now or in the future?
Gen. Raymond: What we are facing is a challenge from both Russia and China that is increasing in scope, scale, and complexity, and it is very concerning. The Russians have been active lately, doing things like testing a co-orbital anti-satellite weapon and deliberately destroying one of their own satellites in Low Earth Orbit, producing more than 1,500 pieces of trackable debris that will threaten spaceflight safety for years to come.
However, that recent nature of Russian space activity should not lead to the conclusion that Russia is a more concerning threat in space than China.
The Chinese have a mature and operational counter-space capability that represents our pacing challenge. Both China and Russia have demonstrated the ability to perform complex on-orbit maneuvers. They both possess a ground-based missile designed to destroy satellites in low-earth orbit.
Both nations have a host of jammers that can disrupt satellite links and receivers, and both are developing directed energy weapons that can blind optical sensors or permanently damage satellites.
AMAY: Some US officials said earlier that "The Pentagon is complicated enough and the establishment of the Space Force will make it more complex". How do you respond? 
Gen. Raymond: The establishment of the United States Space Force has actually simplified the Pentagon instead of making it more complex.
Having a service associated with a war-fighting domain is normal and establishing the Space Force helped normalize space inside of the Pentagon, driving unity of effort, reducing duplication, and enhancing our ability to go fast.
AMAY: Some experts have warned that military competition in space could open the door to a space arms race. Some experts also worry about the possibility of a world war in the future due to competition in space. How do you respond?
Gen. Raymond: It has long been the policy of the United States to promote the safety, security, and long-term sustainability of the space domain. The Space Force is partnering with allies and like-minded space-faring nations to deter aggression in space and ensure it remains safe and accessible.
We are also supporting the efforts to promote norms of responsible behavior to ensure all nations will continue to be able to reap the benefits of the space domain now and into the future.
The US has led the way in advocating for norms of responsible behavior. In fact, just this past year the Department of Defense released its own Tenets of Responsible Behavior in Space, which include limiting long-lived debris, to guide future operations. The intent of these Tenets is to help reduce the risks of misunderstanding and inadvertent escalation, thereby enhancing safety, stability, security, and long-term sustainability of the space domain through openness and transparency in order to maintain the benefits of space for all humanity.
We are encouraging other nations with military space capabilities to examine their own space operations and determine whether there are operational practices they could share which may have the benefit of reducing the risk of misunderstanding and miscalculation.
Cooperation is a hallmark of our approach to military activities in space. While our competitors are moving fast alone, we will go farther, together with our partners/allies.
AMAY: Gen. Raymond, what do you think about Unidentified Aerial Phenomena (UAP)? 
Gen. Raymond: The Deputy Secretary of Defense established the Airborne Object Identification and Mitigation Synchronization Group (AOIMSG) in November. I refer you to the AOIMSG for any questions about UAP.
AMAY: Does the US Space Force have any plans to counter unconventional dangers facing Earth from space like meteorites or even UAP?
Gen. Raymond: Right now our focus is on organizing, training, equipping and presenting ready space forces to the combatant commands. We need to ensure we have Guardians able to deliver space power in support of our national objectives, which today extends out to geosynchronous orbit. However, as our nation's interests in space expand I expect the Space Force's mission set to expand as well.
As for planetary defense, that mission falls within the purview of our nation's civil space agency, NASA.
AMAY: USSF spokesperson, you said, "The Space Force provides the forces and capabilities necessary to ensure access to, and the long-term security, stability, and sustainability of, space". How will the US Space Force ensure this? Any plans to put troops into orbit or weapons whatever now or in the future?
USSF spokesperson: The US Space Force is working to rapidly deliver new capabilities based on threat-informed force design recommendations that will enable the United States to continue to outpace peer competitors and ensure access to and freedom of operation in space.
The Space Force is also investing in resilient, architecture-based solutions that will deter potential adversaries by denying them the benefits they might seek by beginning a conflict in space or extending a conflict into space. Finally, the Space Force is evolving international partnerships from one-way, data-sharing agreements to capability development, which will enhance the resiliency of space-based platforms and increase the nation's ability to deter aggressive action in the domain.
Regarding the second question, it is important to understand that space problems do not necessarily require space solutions. Space operations require a secure ground segment as well as a link to the satellite via the electromagnetic spectrum.
Accordingly, as a joint, multi-domain force the US military is prepared to respond to any attempt to deny access to, or the freedom to operate in, space at a time, place, manner, and domain of its choosing.
AMAY: Egypt recently established the Egyptian Space Agency, and Egypt is a major ally of the United States outside NATO; how can The Space Force cooperate with Egypt in space security?
USSF spokesperson: The US Space Force would welcome the opportunity to commence a dialogue with Egypt, a growing space-faring nation, to identify potential opportunities for space security cooperation.
These opportunities may include members of Egypt's Ministry of Defense participating in Space Force-sponsored training courses available through the National Security Space Institute, including the Introduction to Space and Space Capstone Publication courses.
Additionally, Egypt hosts the headquarters for the African Space Agency, which could offer a path for space cooperation and joint activities with Egypt and throughout the region.
Finally, while not US Space Force–sponsored, one of the most mutually-beneficial opportunities is establishing a bilateral Space Situational Awareness (SSA) sharing agreement between the Egypt Space Agency and US Space Command. USSPACECOM enters into SSA Agreements with countries, companies, and non-governmental organizations that field space capabilities and benefit from the use of space systems to exchange SSA data—a critical contribution to a safe and secure space domain.
AMAY: Has any of the US space forces been deployed abroad? And why were space forces deployed in Qatar recently?
USSF spokesperson: Guardians are assigned to each US geographic combatant command and provide operational expertise for the planning and employment of integrated space power throughout the spectrum of joint and coalition military operations. The presence of Guardians in Qatar is not new; several of the space professionals already in place supporting US Central Command operations volunteered to transfer from the US Air Force to the US Space Force back in September of 2020.
AMAY: How many troops are in the Space Force?
USSF spokesperson: The Space Force currently has around 13,000 Guardians: about 6,800 are uniformed military and 6,200 are civilians.