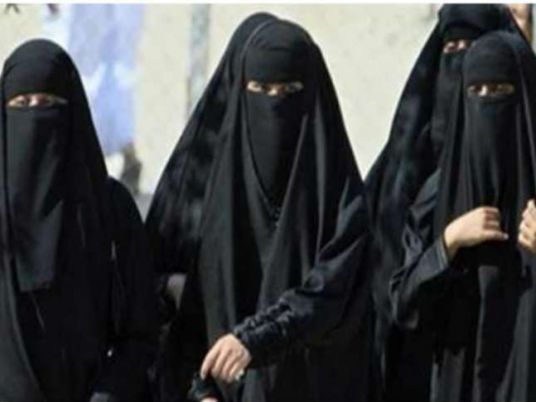 Dozens of Niqab-wearing women from the Faculty of Medicine and Qasr Al-Aini hospitals staged a protest on Sunday outside the Qasr Al-Aini conference hall against Cairo University President Gaber Nassar's decision to ban nurses and doctors from wearing the full-face veil in Qasr Al-Aini Medical School (QAMS) and its affiliated teaching hospitals.
The decision, issued on Sunday, was applied to nurses, graduate doctors, specialists, consultants, technical assistants and all academic staff in Qasr Al-Aini hospitals. "The decision bans them from wearing the Niqab during working hours to guarantee patients' rights and interests," read a press statement.
It also ordered the closure of small mosques and restricted prayers to only taking place at bigger mosques.
Protesters held banners reading: "Our mosques… our Niqab… our freedom" and "Down with Gaber Nassar". They also shouted angry slogans. Other students expressed solidarity with them and took part in the protests.
Ahmed Mahran, a lawyer and the head of the Cairo Center for Political and Legal Studies, told Al-Masry Al-Youm, "We call on President Abdel Fattah al-Sisi to intervene to defend women's rights in work and choosing what she wears freely, so long as these clothes conform to laws and constitution without violating morals
There is no conflict over protecting national security, he said, adding that there is no problem that the face-veiled woman removes her Niqab when getting her workplace to check her identity and preserve national security.
Edited translation from Al-Masry Al-Youm