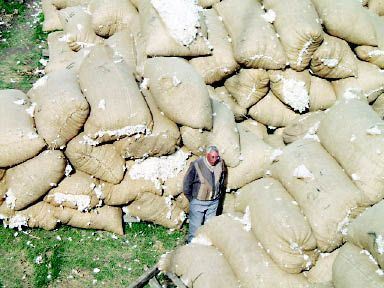 The Supreme Organizing Committee of Cotton Trade will convene on Thursday to discuss the consequences of the Agriculture Ministry's decision not to subsidize cotton crops in the coming season.
Representatives from the Cotton exporters' association, cotton trading companies, spinners, ginneries and the ready-made clothes and textile sectors will attend.
The public division of cotton trading companies will hold another meeting next week at the Egyptian Federation of Chambers of Commerce.
Cotton farmers, traders and companies slammed the decision, calling it a "death certificate for cotton and farmers." However, manufacturers of ready-made clothes considered the decision positive and that its success depends on correct economic studies, as spinners depend on imported cottons for more than 80 percent of their material due to the high costs of Egyptian cotton.
Ahmed Ayyad, head of the division, said all world countries support their farmers indicating India and US, both major long-staple cotton producers.
Ali Nassar, deputy of the farmers' trade union, said the ministry's decision contradicts constitutional article no.29 which mandates that the government identify the price of purchasing strategic crops like cotton. He added that the decision threatens production of long-staple cotton, which is high quality despite its high price.
Mahmoud Abdel Maqsoud, a member of the land reform general association, said that farmers did not obtain governmental subsidies before, except for the cash subsidy disbursed last season. "Even that subsidy did not go to farmers. It was disbursed to companies to encourage them to purchase the product from farmers who sold out the crops at less than the identified prices," he said.
Hassan Eshra, head of the Egyptian Textile Export Council, said the decision was made without discussion with people involved and that the ministry should fulfill needs of farmers rather than cutting the subsidy.
Mohamed al-Morshedy, head of the Egyptian Chamber of Textile Industries, said the ministerial decision was unclear and that government should rather declare a strategy to handle the cotton crop.
Meanwhile, Yehia Zananeery, a member of the ready-made clothes industries chamber's board, welcomed the decision saying that the Egyptian cotton is poorly marketed and not in demand for its weak quality and high cost, compared to imported cotton.
Edited translation from Al-Masry Al-Youm