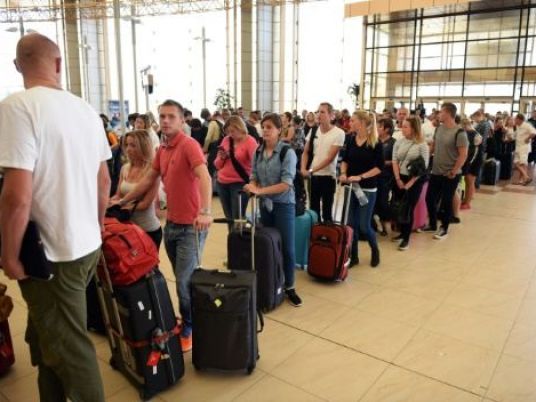 The increased security at Sharm el-Sheikh Airport turned into a mixed blessing for British vacationer Nicky Bull, one of tens of thousands whose travel plans became uncertain after Metrojet Flight 9268 crashed.
She felt safer but had to stand in line for hours before boarding a plane.
"At the airport today it was absolutely dreadful," Bull said Friday after returning to the United Kingdom. "I appreciate all the extra security but they just couldn't cope with it. … When we tried to go home on Wednesday the security was non-existent. Now it is as it should be but I don't think they've got enough people to deal with it."
Even worse was the uncertainty.
Bull said she supported her government's decision to temporarily suspend flights from Egypt but said officials didn't supply much information about what to do.
"We didn't know when we would be going, if it would be one day, two days," said Bull, a human resources manager from Bath. "We felt like we were on our own."
Jonathan Hughes, another British vacationer, is still in limbo.
"I'm guessing we'll be in the queue," the 28-year-old management accountant told CNN, as he awaited further information on whether his flight home to Manchester, northern England, would operate as scheduled Saturday.
"Not knowing if tomorrow is going to be another day on holiday, or if we're coming home, is a bit frustrating," he said.
Later Friday he sent a Twitter message saying the situation at the airport was very confusing.
"Very frustrating, reps have gone awol now, sign on the board still listing 9 Thomson flights as leaving today. Just need a bit of decisiveness," he said.
UK flights resume, but complications endure
Flights from the resort to the United Kingdom resumed Friday after having been grounded over fears that a bomb planted by an airport worker may have brought down the Russian airliner Saturday.
EasyJet Flight 9854 landed at London's Gatwick airport with 180 passengers Friday afternoon, the first of the so-called rescue flights to touch down.
The airline said it was able to return 359 passengers to the United Kingtom in the two flights it was allowed to operate from Sharm el-Sheikh. The low-cost carrier said it expects to repatriate an additional 445 passengers Saturday on two aircraft from the Egyptian resort to London Luton Airport.
But with Egyptian Civil Aviation Minister Hossam Kamel saying only eight flights to the United Kingdom were scheduled to leave Friday, instead of the usual 29, a heavy backlog was anticipated.
Flights for carriers Thomas Cook and Monarch that were scheduled to land were diverted, with Thomas Cook saying three flights had been canceled because of a limited number of departure slots.
Turkish Airlines announced it was suspending flights to and from Sharm el-Sheikh until Sunday, after the arrival of its specialist team to assess security procedures at the resort's airport.
And, remarkably, Russian President Vladimir Putin on Friday agreed to suspend Russian air traffic with Egypt until the reasons for the Metrojet airliner crash were known, the Kremlin said.
There are believed to be about 50,000 Russian tourists in Egypt, according to preliminary data, the Russian Association of Tour Operators said Friday.
Earlier, Russian vacationers expressed on social media their relief to be aboard a homeward-bound flight. "We are (on) the plane and feel great," posted Instagram user @senejskayafox.