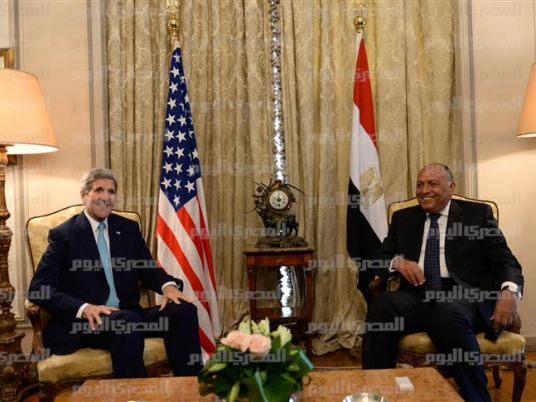 Egypt's Foreign Minister Sameh Shoukry met during his visit to Washington with Chairman of the US House Committee on Armed Services Mac Thornberry and Egypt's military attache to the United States.
The meeting focused on the US military aid to Egypt, and Egypt's current economic, social and political developments.
The spokesman for the Foreign Ministry Ahmed Abu Zeid said in a press release, Tuesday, that Shoukry stressed, during the meeting, the fact that the military aid program to Egypt requires a review, three decades after it was first started.
Shoukry stated Egypt's need for further aid in order to continue counter-terrorism efforts, as well as to promote stability and peace in the Middle East, where crises are deepening.
Shoukry displayed Egypt's economic reform program, and the agreement which was signed recently between the Egyptian government and the International Monetary Fund, stressing that the steps taken by the Egyptian government — including subsidy cuts and the floatation of the pound — show that the government's resolve to face the economic challenges boldly unlike previous governments that have been timid to take similar reformatory step to address imbalances in many sectors of the Egyptian economy, Abu Zeid mentioned.
Thornberry expressed confidence that the new US administration will give fresh impetus to Egyptian-American relations, and that the United States is ready to listen to its partners in Egypt on how to develop and strengthen US-Egyptian relations.
The United States will remain supportive of Egypt, as Egypt's stability and its success serve the American interests in the Middle East, Thornberry added.
The three officials tackled as well the situations in Libya, Syria, Iraq, and Yemen.
Edited translation from Al-Masry Al-Youm