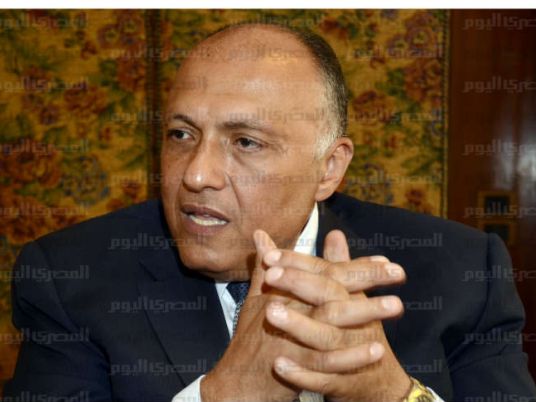 Foreign Minister Sameh Shokry said the airstrikes targeting oil establishments east of Syria that are used by the Islamic State group is an essential step in order to stop their funding.
In an interview with CNN, Shokry said this money provides the group with the required funding to purchase weapons and hence achieve military accomplishments, thus the shelling is a positive and necessary step, despite being a disappointing loss for the Syrian people.
Egypt's military doctrine will always remain defensive and target protection of Egyptian land and people, Shokry said. In previous statements, Shokry has stressed that Egypt is more focused on fighting the militants in their own country, such as the Sinai-based terrorist group Ansar Bayt al-Maqdis, than IS, which now hold large swathes of land in Syria and Iraq.
Regarding possibility that Egypt takes part in efforts to eradicate the IS group, Shoukry said it's necessary that the coalition members play different roles, which are currently being identified. He added that the coalition activity is still at its preliminary stages.
Egypt is now focusing on taking advantage of religious institutions to weaken these groups' ability to include more fighters, Shokry said pointing to cooperation between the US, Egypt and European partners in the field of intelligence.
Shokry also hinted that Egypt is working on developing its strategies for cooperating with other partners.
Edited translation from MENA