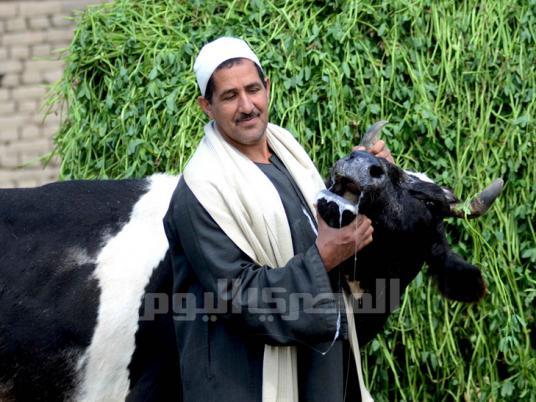 There have been no reports of human cases of foot-and-mouth disease to date, said Assistant Agriculture Minister for veterinary medicine Dr. Hatem Farrag.
"Foot-and-mouth disease has been globally classified as a disease that can be transmitted from animals to humans, however, since 1921 only 40 people have been infected with the disease," said Farrag. "The disease symptoms are similar to those of the common cold, and it usually only infects those coming in direct contact with infected animals."
He went on to say that foot-and-mouth disease is not a serious infection in humans.
In related news, Dr. Suhair Hassan, head of the Central Department for Preventive Medicine in the General Authority for Veterinary Services, said cases were on the rise, with the number of suspected cases reaching 37,351, including 16,792 that are being treated and 20,532 that have recovered.
She went on to say that the disease caused the death of 9,022 animals, mostly calves. She added that the department had ongoing daily awareness campaigns for farmers on how to deal with animals suspected to be infected, especially since the disease can be transmitted through the air across dozens of kilometers.
According to a daily follow-up report on foot-and-mouth disease, Gharbiya is the worst hit governorate, with 23,124 suspected cases. In Gharbiya, 6,602 cases have recovered, while 2,983 animals have died. The report attributed the large number of cases in Gharbiya to the high number of dairy farms in the governorate's villages.
Daqahlia was the second most affected governorate, with 1,015 deaths and 7,585 suspected cases. In Beheira, the disease caused 697 deaths and 3,364 suspected cases.
Translated from Al-Masry Al-Youm